Women Around Town, July 2023
It appears that there is lots to see this month.
IN THE GALLERIES
First up is Brand 51, the 51st  Annual Juried Exhibition of Works on Paper that opens July 8 at the Brand Library.  This year's juror is a local resident, Ara Oshagan, who has selected close to 100 works of art. This is a national exhibition and so it is not limited to So. California artists. However, after scanning their website it was nice to see so many familiar artists included such as, Mary Sherwood Brock, Carol Goldman, Susan Hannon, Monica Marks, and many more. July 8 thru September 1, 2023.
Solace/Sublime opens this weekend at Angel's Gate Cultural Center. The exhibit is curated by Molly Enholm Velazco and features work by the curator as well as Samantha Fields, Megan Frances, Yvette Gellis, Virginia Katz, and R. Nelson Parrish. "… featuring  artists who look to phenomena of the natural world as a primary source of inspiration. In the trajectory of Western art, portrayals of the natural world were often cast as attempts to conjure the sublime, through representations of the natural world that emphasize its power, scale and longevity that vastly overwhelm the emotions of the viewer. The exhibition explores a contrasting notion through the very elements often associated with the sublime experience. Collectively, their response is one that values the experiential over the objectification of the natural world and seeks to translate these elemental forces of nature. Through a combination of fragmented and representational imagery, these artists embrace the enduring dichotomies of the natural world: the overwhelming and the minute, the eternal and the ephemeral, the solace and the sublime." Artist Talk: Saturday, August  19, 3 p.m.  July 8 thru September 9, 2023. 
Womxn in Windows, a platform whose mission is to share the perspectives of women of color through video art, film, and performance, will present American Gurl an ongoing curatorial project featuring work that explores all shades of American Dreaming. Co-curated by Zehra Zehra and Kilo Kish at Hauser Wirth.  This installment of the project will take shape as a film exhibition with  eight films by intergenerational artists with curiosity around the perspectives and nuances within the Black feminine experience and our relationships to beauty, success, freedom and power in America. Participating artists:  Ayanna Dozier, Ja'Tovia Gary, Kilo Kish, Savanah  Leaf, LaJuné McMillian in collaboration with Marguerite Hemmings, Lorna Simpson, Martine Syms and Carrie Mae Weems.
Martine Syms: Loser Back Home is the current exhibition at Spreuth Magers showing Syms' latest work in video, sculpture, painting  and  photography. "Garnering widespread attention for her work that combines conceptual grit, humor and social commentary, Martine Syms has emerged in recent years as one of the defining artists of her generation." Thru Aug. 26.
Anat Egbi's Fountain Avenue location is featuring paintings by Mónika Kárándi.  "The paintings are characterized by the artist's connection to transcendent nature, which she describes as 'vitalizing and stifling at the same time.' The exhibition title Remember where we started out—implies a togetherness, a collective search to understand our present through examining our shared origins. This phrase is lifted from a lyric by electronic band Hot Chip. Kárándi frequently sources her titles from music lyrics as a way to draw upon the poetry of language to visualize abstract emotions and ideas." Thru July 15, 2023.
Later this month Roberts Projects will be presenting the work of  an Indo-Carribeann artist, Suchitra Mattai. In the absence of power. In the presence of love includes mixed-media paintings, tapestries, and a soft-sculpture installation that evoke the artist's Indo-Caribbean heritage. "Mattai describes her process as one of "brown reclamation," reworking original images to tell new stories. Embroidery, needlepoint, beading and found objects insert women's handiwork into the traditional painterly landscapes. In other works, the heroic stories, figures, animals, patterns, and landscapes of Indian miniature paintings are reconfigured. Here, the heroes are replaced by heroines—empowered and mythic, yet empathetic and accessible. They are peaceful warriors and include both the young and the old." July 15 – September 1, 2023.
Don't miss the current exhibit at L.A. Louver, L.A. Louver Gallery   Among the many artists are: Marcellina Akpotojor, Mary Beyt, Édouard Boubat (1932-1999), Rebecca Campbell, Eileen Cowin, Petah Coyne, Amir H. Fallah, Yvette Gellis, Rachel Lachowicz, Heather Gwen Martin, Ana Mendieta (1948-1985), Astrid Preston, Alison Saar,  Faith Wilding and many more. A fully illustrated online catalogue accompanies The Flower Show with text by Elizabeth East, L.A. Louver Director and co-curator of the exhibition.  Thru  September 1, 2023.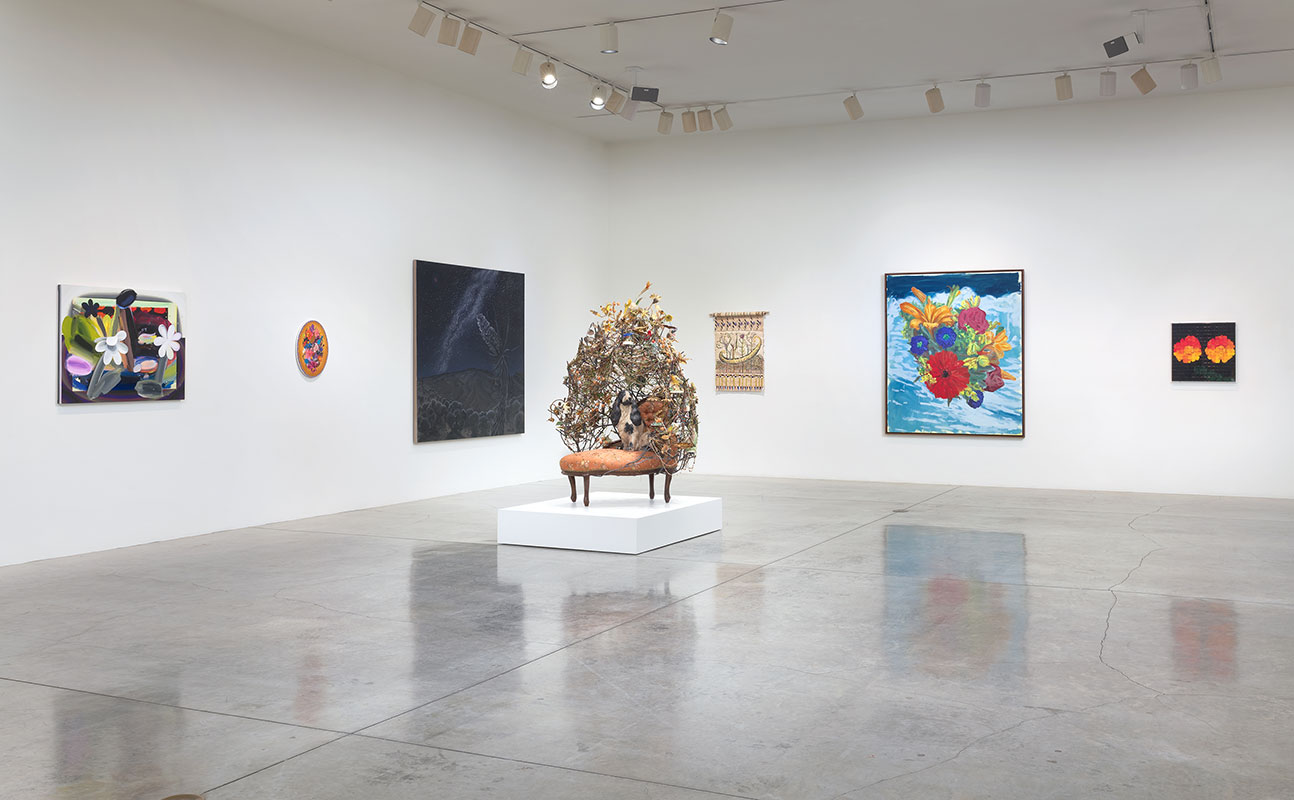 IN THE MUSEUMS
 Ecstatic: Selections from the Hammer Contemporary Collection is focused on sculpture and works on paper, adding another dimension to the museum-wide presentation of the Hammer Contemporary Collection. The exhibition is organized around two distinct installations that emphasize the role of each medium within the scope of the museum's collecting. Featuring works by a wide range of artists, including Eleanor Antin, Lee Bontecou, Louise Bourgeois, Cecily Brown, Joan Brown, Judy  Chicago, Liz Craft, Nancy Grossman, Lauren  Halsey, Liz Larner, Senga Nengudi, Alexis Smith, Rosemarie Trockel, Pae White, Faith Wilding, and more, Ecstatic builds upon the precedent of past Hammer collection exhibitions that have argued for the central role that drawing and sculpture occupy within Los Angeles and the broader field of contemporary art.  Thru August 27, 2023.
Mapping an Art World: Los Angeles in the 1970s-80s at MOCA revisits the decades leading up to the founding of the museum in 1979 and the opening of MOCA's Grand Avenue building in 1986. Through the presentation of works from MOCA's collection, the exhibition aims to reconsider the pivotal decades of the 1970s and 1980s, and to explore the spirit of experimentation and collaboration and the unique cultural and social landscape that contributed to and firmly established Los Angeles as one of the most dynamic art capitals in the world, and MOCA as an enduring presence for the city's artists. Featuring more than 200 artworks and pieces of archival ephemera—including beloved works by Eleanor Antin, Carole Caroompas, Barbara Kruger, Betye Saar,  Ilene Segalove, Pattsi Valdez, among others– Mapping an Art World examines MOCA's origins as an artist-founded museum as well as its  commitment developing a world-class collection. Thru  March 10, 2024.
I am delighted to see that the exhibition,  Alice Neel: Feels Like Home, will be featured at the Orange County Museum of Art. This exhibit highlights  the role of kinship, chosen family, and the importance of community within the work of Alice Neel (1900-1984), one of the foremost American figurative painters of the twentieth century. A curated selection of forty paintings, many pulled from the estate's collection, focuses on Neel's honest, intimate paintings of her home, children, animals, and expanded family. Thru October 22, 2023.
Finally, if you happen to be visiting San Diego this summer, do visit the San Diego Museum of Art at Balboa Park to see their current exhibit, O'keeffe and Moore. This unique  exhibition compares the work of  these two iconic modernists, Georgia O'Keeffe and British sculptor, Henry Moore.