Looking forward to many compelling exhibitions this Fall.
Note that the Bergamot Station Fall Open is Saturday, September 10, 11 am.-9 p.m.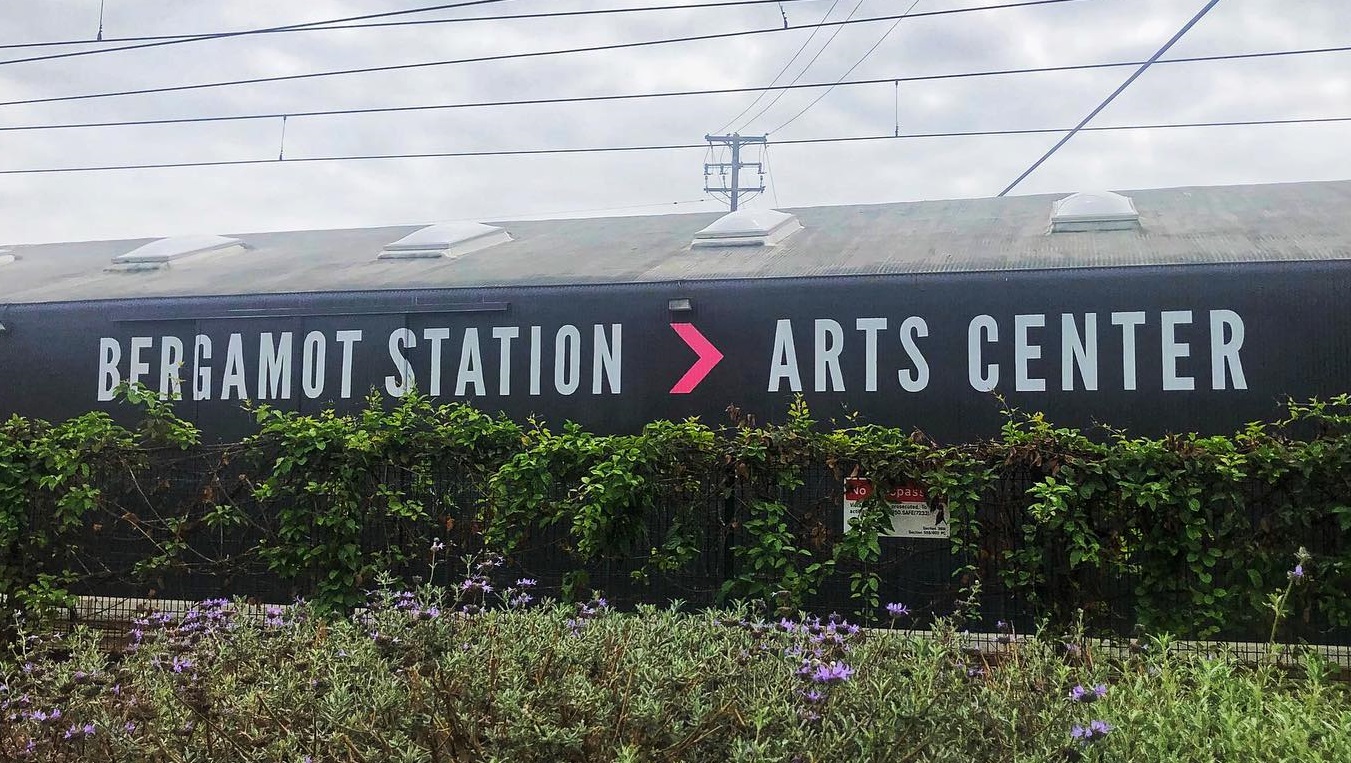 IN THE GALLERIES
Vielmetter Los Angeles is featuring Mary Kelly: Corpus, an exhibition of Kelly's ambitious 1984-85 installation, originally made as the first part of a larger project titled Interim. Interim Part I: Corpus features five groups of three pairs of panels that mimic the scale of advertising images in bus kiosks. Each pair contains one panel, a photo laminate depicting an evocative item from Kelly's wardrobe (a leather bucket bag, leather jacket, silk dress, lace up boots, and a lacy nightie) and a second panel of block text silkscreened in silver with painted red highlights. The confessional-style prose conveys women's experiences at a period in life when anxieties about aging, remaining desirable, increasing one's career or social success, and being the right kind of woman (before it's too late) come to play. Each successive text becomes more absurd, resisting a literal psychological reading. Corpus examines the socially inscribed shift in what it means to be seen as a woman, from the visibility of youth to the invisibility of age. Each group of six panels is named after one of the five passionate attitudes that psychiatrist Jean-Martin Charcot attributed to hysterical women in the late-nineteenth century: Extase, Menacé, Supplication, Érotisme and Appel, poses that are continually replayed in media images today. (Gallery Website)
September 3-October 15, 2022
Matter Studio Gallery is exhibiting recent work by local artist Bibi Davidson, Imaginary Matter. The exhibit features a series of paintings In her recognizable vibrant illustrative style. "Davidson's illustrative-style works are allegorical representations of the chaotic and unsettling realities of her childhood. Her boldly colored narrative paintings are autobiographical and social commentary while simultaneously layered with with elements of humor. The ever-present girl in the red dress that populates many of her paintings functions as her alter ego in addition to a symbol of her inner turmoil. Through the process of painting, Davidson charms and calms her inner self. Her captivating and purposefully quirky works investigate personal and universal conflicts, as well as the chaos that defines our times." (Matter Website).
September 4, – October 2, 2022; Opening Reception: Sept. 4th 4-7 p.m; Artist Talk: Sept. 18, 2-4 p.m.
Valley of the Sun? After America, new works by  Columbian-born visual artist Carolyn Castaño  is  the upcoming exhibit of new work at Walter Maciel Gallery.  Much of Castaño's work focuses on how gender and ecological concerns play out in regional conflicts. September 10-October 29, 2022.
Track 16 Gallery (in the Bendix building) presents new works by Eve Wood. Hanging in There to Hang On, a selection of works on paper with gouache and graphite. Eve's unique rendering style and personal subject matter surely delights.
September 10-October 15, 2022.
Anat Egbi 's (Fountain Ave) most recent exhibition is Ángeles Agrela: Fauna. Fauna includes references to fashion, graphic novels, illustration, advertising, and pop culture, as well as to classical masters. In recent years Agrela has turned focus to developing a pictorial technique rooted in classical portraiture, while combing manifestations of femininity in contemporary culture, including popular media and social networks. Thru October 15, 2022.
A solo exhibition of work by the late Kaari Upson, titled never, never ever, never in my life, never in all my born days, never in all my life, never continues at Sprueth/Magers. Thru October 8, 2022.
Mika Rottenberg  is a fascinating Argentenian-born artist whose newest work is the subject of a solo exhibition at Hauser and Wirth.  Continues thru October 22, 2022.
IN THE MUSEUMS
The Geffen Contemporary at MOCA is presenting Judith F. Baca World Wall.  Baca began her collaborative, portable mural World Wall: A Vision of the Future Without Fear in 1987. An ambitious, utopian, and international project, World Wall is rooted in the philosophy that in order to achieve world peace, we must first be able to envision it. Baca painted the first four ten-by-thirty-foot canvas panels; as the work traveled abroad, between 1990 and 2014, artists and community groups from Finland, Russia, Israel and Palestine, Mexico, and Canada contributed five additional panels, employing figurative and symbolic visual vocabularies to depict a vision of the future without fear. All nine panels will be shown at MOCA in an enveloping installation. Significantly, this exhibition, in the artist's hometown of Los Angeles is the first-ever complete presentation of this monumental project.
September 10, 2022-February 19, 2023.
Habitat: Explorations is the exhibition by Stephanie Sydney at Lancaster Museum of Art and History, Cedar.  "Sydney examines the behaviors and attitudes of human nature and their direct contribution to the destruction and decay of the natural world. Through her carefully constructed digital collages, she combines her knowledge of painting and digital design. These collages are created through the use of Photoshop where she manipulates and layers images on top of one another. Through this layering of images, Sydney examines her fascination with the idea of juxtaposition between extreme concepts like life and death, strength and fragility, chaos and order, among others. Originally trained as a painter, Sydney views her photography as a canvas and Photoshop as her paintbrush, using the program to manipulate the size, color, and shape of her chosen images. The result reveals a surrealist interpretation of reality whose visual associations compel the viewers to question the relationship between the individual images and the overall message presented…" (MOAH Website). (Note that MOAH will be closed for renovation until May 2023.) Thru October 23, 2022.