Happy Fall…with hopes of a positive result in our upcoming election.
IN THE GALLERIES
I want to recommend you visit  (virtually or by appointment) the current exhibit at Embed Gallery in Chatsworth, Common Ground curated by Suvan Geer and Sandra Mueller and sponsored by the So. California Women's Caucus for Art. This important exhibit that addresses issues about the environment, the politicized landscape of border, activism, the importance of community and more, also has some wonderful programming offerings with online discussions and workshops  related to the exhibit. This is the type of community outreach we need more of. Included in the exhibition are artworks by Kim Abeles, Mariona Barkus, Sharon Barnes, Pilar Castillo, Danielle Eubank, Samantha Fields, Suvan Geer (Stitch in Time), Eloisa Guanlao, Ann Isolde, Sant Khalsa, Meg Madison, Kaoru Mansour,  Maryrose C. Mendoza, Sandra Mueller, Naida Osline, Pamela J. Peters,  Sheila Pinkel, Sinan Leong Revell, Bonnie J. Smith (She Votes Book), Linda Vallejo, and Gail Werner. Thru November 14, 2020.  You can RSVP to all virtual events on their website.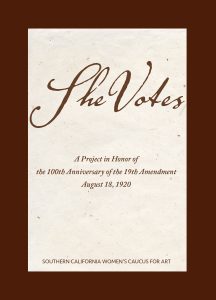 Artist Conversation:  Rina Banerjee with Alison Saar at  L.A. Louver.   Wed. Oct. 14  @ 2 p.m. Livestream at L.A. Louver. The artists discuss the group exhibition 45 at 45, gender, cultural identity, and materiality, moderated by L.A. Louver Director Kimberly Davis.  Register here
L.A. Louver Gallery   presents 45 at 45, includes works by 45 artists, timed to celebrate the forty-fifth anniversary of the gallery. This group show reflects the gallery's founding principle to champion L.A. artists within an international program. 45 at 45 features long- represented L.A. Louver artists and  those from L.A. Louver's Rogue Wave program of emerging L.A.-based artists such as Liza Lou, Carmen Argote, Rina Banerjee, Deborah Butterfield, Rebecca Campbell,  Heather Gwynn Martin, Analia Saban, Alison Saar,  and many more. October 20-Jan 16, 2021.
JOAN Gallery at the Bendix Building presents Pittsburgh-born, New York-based, experimental filmmaker, Peggy Ahwesh.  Heart-Land  includes four varied video installations based on films made between the early aughts and 2019: The Star Eaters; Lies & Excess; Bethlehem; and Kansas Atlas. The films will be installed amidst a choreographed "Curtain Accompaniment," designed in direct response to the films, by L.A. artist, Yunhee Min. The exhibition is curated by Linda Norden. October 11-December  19, 2020. By appointment only.

Kathryn Garcia:The Feminine Divine at Gavlak Gallery is a body  of work inspired by early Neolithic Goddess idols. In many of the images (mostly colored pencil drawings on stonehenge fabric) where the female figure is often seen displaying her large vulva. The sacred  "V"  motif often found in neolithic female figures is a motif found in Garcia's drawings. "In this exhibition the artist shares a representation of the female form that challenges the historical narrative and instead enacts the numinous power of female sexuality." Here is a link to her Bird Goddess video which is  included in  the exhibit.Thru October  24, 2020.
Hearts, the current exhibit at David Kordansky Gallery featuring  new paintings and works on paper by Linda Stark continues.  Hearts occupy the literal and figurative centers of human and animal life, but they also appear in a wide range of social and narrative contexts. Emphasizing the sculptural qualities of paint as much as its visual or color-based ones, Stark creates objects that refle­­ct the multivalent potential of the heart as vessel and beacon, biological organ and mystical source.  Included are references to the suffragette movement and the fight for women's right to vote; the use of hearts in medals for military purposes; the transformational power of religious imagery; and the ability of a heart to transform another image. Thru October 24, 2020. By appointment.
Also at Kordansky Gallery is A Zebra Races Counterclockwise, paintings by Lesley Vance continues as well. These are very large scale paintings that depict freely flowing expressive gestures that she elaborates over time, transforming them into networks of lines, textures, and intercut volumes. Thru October 24, 2020.
The current exhibition of the work by Senga Nengudi continues at Sprueth Magers Gallery . Nengudi's oeuvre situates itself at the threshold of sculpture and object-related choreographed performance. She is known for work that uses such ordinary materials as nylon stockings. This current exhibition brings together 2 large-scale projects, Bulemia and Sandmining. Each of these works characteristically demonstrate the use of everyday materials and  a unique approach to using form and space. Extended thru Oct. 30, 2020.
Lois Lambert Gallery's current exhibit is Sheinina L. Raj, Intercultural.  Raj stages photographs of self-portraiture in which she embodies the portrayal of different women from across the world in a journey of unity and understanding. Taking from the traditional female garb of Fiji, India, Pakistan, Morocco, Armenia, Jordan, Saudi-Arabia, Spain, Turkey, Greece, Portugal, Japan, Thailand, Mexico, Native America, Hawaii, Brazil, Sicily, Iran and North America, this collection of self-portraiture simultaneously highlights the differences and ultimate similarities between peoples and cultures. At a time when the world yearns for common ground, Sheinina's photographic series speaks in a visual language universally understood. With each image accompanied by a unique self-written essay, her work serves to "enlighten cultural ideologies, initiate respect for diversity and unify humanity for a peaceful coexistence worldwide" – Raj.Thru November 7, 2020.
Also at Lois Lambert is Charlotte Schmid-Maybach's exhibit Water, Walls, and Trees: Photographic Tapestries. She takes interdisciplinary and multidimensional approach to capturing images of nature through a combination of photography, textile, and assemblage. Her inspiration comes mainly from the majestic old growth forests and crumbling walls at Fort Warden on Puget Sound.
IN THE MUSEUMS
With all of our local museums closed, the destruction (oops, I mean reconstruction) of LACMA and just finding out today that the Centre Pompidou in Paris will be closed for remodeling for up to 5 years, I have a pessimistic view about one of most pleasurable experiences in my life. So, I bring to you a few excellent virtual exhibitions at the National Museum of Women in the Arts. The first is Graciela Iturbide's Mexico. Iturbide is one of the most influential contemporary photographers of Latin America, Graciela Iturbide has produced majestic and powerful images of her native Mexico for the past 50 years. This is the most extensive U.S. exhibition of the artist's work in more than two decades, revealing Iturbide's own journey to understand her homeland and the world. Next is Delita Martin: Calling Down the Spirits. The large-scale work of Delita Martin (b. 1972, Conroe, Texas) uses symbolism, color, and material to visualize interconnections between generations and the liminal space between the physical and spirit worlds. Finally, Women Artists of the Dutch Golden Age.
The NMWA website also has a list of wonderful podcasts about women artists, just scroll down to the bottom of the page.