My latest out of town art adventure was to Seattle, Washington.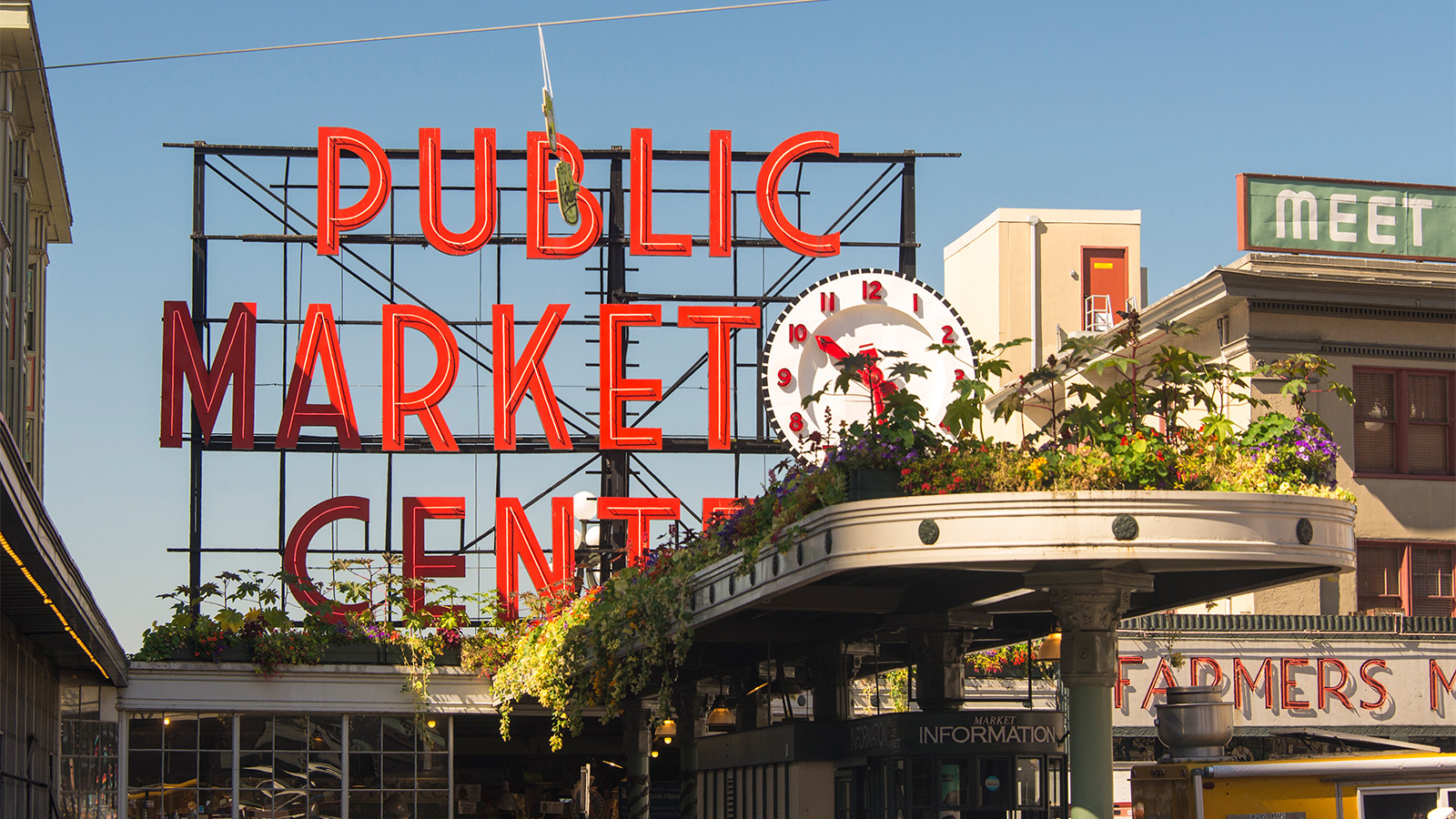 At the top of my itinerary was a visit to the Seattle Art Museum to view the exhibit Victorian Radicals: From the Pre-Raphaelites (PRB) to the Arts and Crafts Movement. It was a very comprehensive exhibit with works ranging from those by Dante Gabriel Rossetti, John Everett Millais, and William Holman Hunt to William Morris. I sought out the female contributors and learned that Florence Jane Camm played an important role in her family's stained glass workshop.  A stained glass window by Camm, Dante and Beatrice II: the Wedding Feast  (1910) is an exquisite example from the Arts and Crafts Movement in England and part of larger suite that celebrates Italian literature, something the Pre-Raphaelites often focused on. Kate Elizabeth Bunce's painting, Musica  (1895) depicts a single female figure playing a lute against a dense background of flowers and decorative objects. It is painted in the highly realistic style of the PRB.
As enjoyable as the SAM museum was, the highlight of the tr ip was our visit to the Chihuly Garden and Glass. This venue provides a look at Chihuly's inspiration and influences and brings together many of the elements of his work, including drawings, signature glass series, large architectural installations and his personal collections. One of many things stood out here  that was unique is that the artist has insisted that visitors get up close to the glassworks which is a very different museum experience than I am used to.  Truly a feast for the eyes.
IN THE GALLERIES
Jeffrey Deitch Gallery presents Judy Chicago: Los Angeles. The exhibit will feature early works by the notable feminist artist, more specifically works created between 1965-1972. Drawings, paintings, sculptures, installations and documentation of her environmental and fireworks projects will be on view. The exhibition not only provides an opportunity to see artworks that have not been exhibited for decades, it additionally offers a glimpse into the beginnings of what has and continues to be a remarkable career by a very influential woman artist.  9/07-11/02/19. Opening Reception: 9/07, 6–8 p.m.; Book and Product Signing: 9/07, 7-8 p.m.
Blum and Poe Gallery is celebrating their 25th anniversary with re-install of Anya Gallaccio's Stroke – a visceral installation of thick, dark chocolate smeared on the gallery walls. "Gallaccio's practice uses organic materials to subvert and reframe that male-dominated moment in art history. Trees, flowers, fruit, and ice are investigated for their fluidity and impermanence, and decay becomes a part of the installation to be embraced. The unpredictability of these ephemeral materials yields a freeing inability to control the final product, from which unexpected results emerge. These materials, pulled from a feminine, domestic space, challenge a masculine past and reclaim a place in history." 9/14/10/26/19. Reception: Saturday, 9/14; 6-8 p.m.
The Game of Patience is the current exhibition of new figurative paintings by Laura Krifka at Luis de Jesus gallery.  I look forward to seeing these paintings which are described by the gallery: "The paintings depict  female and male subjects in intimate moments within carefully constructed interiors. Krifka deftly paints her bare-skinned protagonists reading, drawing, daydreaming, watching, and waiting. The peep of a phallus and the highlight of a thigh gap allude to the pleasure of stillness, supplemented by the visual tension meticulously sculpted throughout the domestic spaces…" 9/07-10/26/19.
A weekend jaunt to Ojai is always inspiring especially with the exhibits at Porch Gallery. Beatrice Wood: Bed Stories and More is their current exhibition. These are works on paper and not ceramics which Wood for which she is mostly known. Published by Lee Waisler in 1987, when Wood was in her nineties, the hand-painted etchings that comprise this series further demonstrate her unique creativity. 9/05-12/01/19.
Night Flights: New Work by Joanne Julian are now being exhibited at Vita Art Center in Ventura. These new works continue to display Julian's adeptness with drawing techniques through her use of pencil and ink. She brings nature to life in a very careful and spectacular manner. Author Betty Ann Brown sees Julian as "a modern American master of haboku ('flung ink' style.) Usually associated with Zen Buddhism, haboku was practiced by monks who, after years of arduous training, sat in meditative repose until they sensed a oneness with the universal life force. The monks then moved from meditation to art allowing the force to flow through them, through the brush and onto the paper in rapid dexterous strokes." Thru 9/26/19.
Boring Art: Tammi Campbell is the current exhibit at Anat Egbi gallery in Culver City. The exhibition title is a tongue-in-cheek reference to the John Baldessari piece I Will Not Make Boring Art (1971), For this exhibition, Campbell reproduced iconic works by Ellsworth Kelly, Frank Stella, Josef Albers, John Baldessari, and Ed Ruscha. She has carefully selected these works from the male-dominated canon of abstraction and beyond. This was followed by scrutinizing research to replicate them in a precise manner. 9/07-10/26/19.
Later this month at TAG Gallery is a timely exhibition titled,Sanctuary, the first installation of multi-year project by Pam Douglas.  Life-size drawings of refugees walking behind a chain link fence and children trapped behind ropes fill the gallery. The 60-foot installation makes the viewer a witness to the refugee journey. Douglas explains her very personal response: "We are in a startling time hearing the cries of children torn from their parents at the American border. Beyond this country, refugees are seeking sanctuary around the world. This work is a visceral response to their humanity." 9/24-10/19/19. Opening reception is 9/28, 5-8pm.
Yvette Gillis: Omnipresence or Chance curated by Molly Enholm continues at the Cal State Northridge West Gallery. Her large ethereal paintings and works on paper take their cue from nature. Thru 9/12/19. Here is a great interview with the artist from L.A. Weekly
IN THE MUSEUMS
Dress Rehearsal is a group exhibition at the Oceanside Museum of Art curated by Kate Stern. The intersection between art and fashion is represented by artists Melissa Meier, Mary Tuma, Alexandra Dillon, Janet Taylor Pickett, Gwen Samuels, Carolyn Hampton, Yaya Chou, Leigh Salgado, Marian Debris, et al. The myriad ways a garment can be interpreted and represented is showcased in this exhibit. The media ranges from sculpture, installation, paintings, photographs, and mixed-media. For example, Gwen Samuels' garments are comprised of tea bags and photo transparencies stitched together; the results are exquisite. Another example, and an artist whose work inspired this exhibit is Melissa Meier.  Her Skins series are literal  "constructions," as she calls them,  made from elements found in nature like pine cones, stones, sea shells, sticks, etcetera, and are very theatrical in nature. The image below by Meier is comprised mostly of sea sponges…amazing! Thru 1/19/20.
Mary Corse: A Survey in Light continues at LACMA. It is the first solo museum survey is a long overdue examination of this singular artist's career. Initially trained as an abstract painter, Corse emerged in the mid-1960s as one of the few women associated with the West Coast Light and Space movement. She shared with her contemporaries a deep fascination with perception and with the possibility that light itself could serve as both subject and material of art.  Scroll down on the following page for a video of the artist in her studio. Thru 11/11/19.
Later this month and also at LACMA is Betye Saar: Call and Response. The exhibition will cover the span of Saar's career with a focus on her sketchbooks and their transition to finished works in physical form. 9/22/19-04/05/20.
OBSIDIAN LADDER, a site-specific installation by Bolivian-American artist Donna Huanca continues at Marciano Foundation. Thru 12/01/19.
Also continuing at Marciano is Anna Uddenberg: Privé.  Uddenberg explores social conventions and norms that are the product of consumer culture. Thru 12/22/19.