UPCOMING LOCAL EVENTS:
Bergamot in Santa Monica is hosting its first weekend of Fall Openings on Saturday, Sept, 8th, 4-8 p.m.
CLAY LA  is Saturday, September 8 – Sunday, September 8 & 9 | 11:30AM–6PM | Free with admission.
CAFAM's annual ceramic marketplace and fundraiser features dynamic and inventive makers of ceramic objects in the greater Los Angeles area. Presented over two days, CLAY LA presents 18 artists with distinctive ceramic designs. Celebrate clay and local artists during this fun weekend of shopping, workshops, music, and drinks!
Tarfest is Saturday, 9/22, 1-7:30 p.m.
Having recently returned from several glorious days in New York visiting many museums, I am pretty saturated from viewing some amazing art. The highlights for me were Heavenly Bodies; Fashion and the Catholic Imagination at the Met which was exquisitely installed within the museum's collection. Thru 10/08/18.
There was an outstanding Giacometti exhibit at the Guggenheim, the always remarkable and intimate The Frick Collection and the Neue Gallery with its wonderful Austrian and German art collection and the iconic portrait of Adele Bloch-Bauer by Klimt (and which by the way has an amazing restaurant).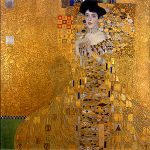 Returning to town, I am looking forward to some exciting and significant local exhibitions of women artists.
IN THE GALLERIES:
At the top of this list is the upcoming Hung Liu exhibition, Crossroads at Walter Maciel Gallery. Yes, she is a favorite of mine. Liu is well-known for her paintings based on historical Chinese photographs, however in her  newest paintings there is a departure, and she has based this series on the Dustbowl and Depression era photographs of American documentary photographer Dorothea Lange, whom Liu has long admired. "Liu focuses primarily on migrant children posing for Lange's camera, often large close-ups, and sometimes holding puppies or kittens, cradling something more vulnerable than themselves. They pose at a crossroads where childhood ends too early and adult responsibilities begins too soon." For her Lange-inspired works, Liu has developed a unique topographic painting technique in which she maps an image with colored lines, she then paints within and between the lines until the overall image emerges. Also on view are Liu's My Secret Freedom series.  These small format landscape paintings were painted in secret while on location in the outskirts of Beijing from 1972-1978. Reception is 9/8;6-8 p.m. 9/08-10/27/18.
Lois Lambert Gallery presents Displacement, new work by painter and sculptor Arminée Chahbazian. In this exhibit her drawings of life forms and nature's trappings are set against vast and monumental locations. The artist cites the importance of the contrast between the micro – scale of her organisms and subjects and the macro – scale of their settings. The soft graphite renderings and the buttery layers of Dura-Lar, (a product similar to acetate) give these works a sense of quiet that is then jarringly interrupted. In some works, her subjects penetrate the layers of the Dura-Lar. Like scale, perspective is manipulated to achieve the disarming and dreamlike effect. These works are colorless, but emotionally charged. In some, Chahbazian uses tiny hand-beading. The glass beads act not as a decorative touch, but as punctuation, drawing attention to the literal threads that tie these layers of meaning together.
Opening reception Saturday, 8/08, 6-9pm.  9/08-11/03/18.  Additionally at Lois Lambert Gallery is Soaring, Stumbling, Surrending, a body of work by Yvette Brown.  Brown paints luminous figures and emphasizes the beauty of the human body in motion, using the fabric of their clothing as a vehicle to accentuate the form and its movement. 
Anat Ebgi is pleased to announce The Splits, the first major solo exhibition of Canadian painter Janet Werner in the United States. "Developed over a practice spanning thirty years, Werner's figures revel in multiple, fragile personalities culled from fashion magazines, children's toys and art history. Despite their representational qualities, each subject remains an ambiguous distortion of references, devoid of one, singular identity. Trading in the traditional 'likeness' of naturalist portraiture, Werner focuses on gestural tension and the deceit of traditional beauty." 9/08-10/20/18.
Lora Schlessinger Gallery presents Sui Getsu Ku Ge / Water Moon Sky Flower by Miya Ando. A practicing Buddhist, Miya Ando imbues her work with its principles of change and impermanence. In these examples she draws inspiration from the teaching of Zen monk Shunryu Suzuki about the interconnectedness of all things. Ando's works evoke the natural world, specifically transitory natural phenomena, such as dusk, charred wood, or clouds, in order to cultivate a conscious relationship between the viewer and nature. She creates an interactive visual experience, encouraging the viewer to examine the paintings and sculpture at different vantage points in order to perceive the various changes of light, color, distance, and time, as one would encounter in nature. 9/08-10/20/18.
Launch LA presents SHē , an exhibition of artists who through contemporary interpretation explore what it means to portray the female persona. This exhibit curated by Elizabeth Tinglof features artwork by Kim Tucker, J Michael Walker, Douglas Tausik Ryder, Andrea Patrie Deborah Martin, Cima Rahmankhah, Sara Alavikia, Kristine Schomaker, FLOAT (Kate Parsons & Ben Vance), Annelie Mckenzie, Phung Huynh. 8/08-8/29/18. Opening Reception: 9/8/18, 6-9pm RSVP to rsvp@launchla.org to attend.
The Brand Library Art Gallery is having its annual Works on Paper Exhibition. 9/08-10/16/18.
A final reminder to visit the Pasadena Museum of California Art before it closes forever. Judy Chicago's Birth Project: Born Again remains on view through 10/07/18.
Fantasies and Fairy Talesat LACMA  seems noteworthy as it explores the role of fantasy and the recurrence of popular fairy tales, myths, and legends in the graphic arts in the years around 1900. I am not certain that any women artists were contributors, however certainly women are the subject of many of these works. More about this compelling exhibition after I am able to view it in person.  9/08/18-2/03/19.
Opening at the end of the month are 2 exciting exhibits at the Craft and Folk Art Museum. The first is a series of multi-layered paintings that explore the destruction caused by present-day environmental crises and the lasting impact of these events by local artist Merion Estes. Unnatural Disasters is the title of the exhibition where the artist combines found fabrics with mixed paint applications and photo transfers to create evocative, saturated landscapes that are simultaneously beautiful and disturbing.
Sherin Guirguis: Of Thorns and Love is the 2nd exhibition. Guirguis presents her research of Egyptian feminist poet, activist, and writer Doria Shafik (1908 –75). Shafik was a prominent leader of the Egyptian feminist movement where her publications and political actions helped ensure the rights of women.. For this exhibition, Guirguis presents paper-cut paintings, sculptures, and a site-specific adobe structure that make visible Shafik's place in history, collective memory, and in contemporary feminism. 9/30/18-1/06/19.
LOOKING AHEAD: 
Adrian Piper: Concepts and Institutions 1965-2016  at the UCLA Hammer Museum 10/7/18-1/6/19.
Nancy Youdelman: Fashioning a Feminist Vision 1972-2017 at CSUN Art Gallery 10/27-12/08/18.
Laura Owens and Zoe Leonard: Survey at the Geffen Contemporary at MOCA 11/11/18-3/25/19.