FYI
It has come to my attention that the Wende Museum of Cold War art and artifacts has a new exciting location and structure in Culver City. It is definitely worth checking out. The Wende is a collections-based research and education institute that preserves Cold War artifacts and history, making resources available to scholars and applying historical lessons of the past to the present. They have wonderful lectures and exhibitions as well.
I just read an article about the demise of art galleries which of course has to do with them no longer being a necessary place for sales when most of us know that most sales happen behind the scenes, on the phone or the Internet.
https://news.artnet.com/market/foot-traffic-galleries-new-york-1318769
Arts attendance is on the decline overall. The article which is focused on the NY artworld discusses bringing back the "old-fashioned gallery walks" to bring people in and of course the role of the Internet in art sales. Can the gallery system sustain itself? We have witnessed many local galleries closing up, yet it seems like new ones seem to be popping up in more unexpected locations. So many of us make it our business to attend gallery openings, some for social connection and also to see what's out there. I cannot imagine my art-filled life without this practice. Can you?
I also want to bring your attention to an outstanding exhibit at the Annenberg Space for Photography. Not an Ostrich and Other Images from America's Library features iconic photographs from the Library of Congress along with an outstanding film. America's Library—a documentary film produced by the Annenberg Foundation features interviews with exhibit photographers, historians, authors, political figures, and civil rights leaders, along with inside access to the Library of Congress. On view thru 9/09/18.
IN THE GALLERIES
Mark Selwyn Gallery presents Jay DeFeo (1929-89): The Texture of Color. De Feo is best-known for being a key figure in the 1950s Bay Area Beat culture. In this exhibit, over 20 paintings on paper from 1986-88 are on view. In these examples the focus is on an essential point in DeFeo's career in the early 1980s when she returned to oil after working with acrylics in the 1970s. The resulting surfaces fluctuate between thick impasto and bare paper support. Geometric forms counterbalance expressionist brushwork, complicating and enriching our experience of the works. Thru 9/05/18.
Mary Heilmann: Memory Remix is one of the current exhibitions at Hauser and Wirth. In the exhibit are paintings, sculpture, and ceramics, which were installed by the 78 year old artist. They are definitely minimalist yet show a slight reference to pop culture. The work draws on her memories of the distinctive colors and lines of the West Coast's landscape and surf culture. "Heilmann's deft handling of paint and spatially dichotomous compositions have exerted a profound influence upon a younger group of artists." Thru 9/23/18.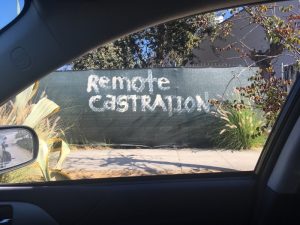 The 11th  annual Diverted Destruction exhibition continues at Loft at Liz's. This time 9 women artists contribute to curator Liz Gordon's concept of selecting artworks in which found objects, discarded and repurposed trash items are used.  The theme of exploring the human condition is brought forth by the featured artists,  Fana Babadayo, Ching Ching Cheng, Alexandra Dillon, Kathi Flood, Rosalyn Myles, Camilla Taylor, Linda Vallejo, Marjan Vayghan and Diane Williams. Thru 8/20/18.
The current group exhibition at LAXART is certainly attention grabbing with the title Remote Castration. The title is derived from some local graffiti and "serves as both provocation and barometer for a collective consciousness operating around gender and power today. " This exhibition will be accompanied by a related series of events this September, so do check their website for updates. Among the artists included in the exhibition are John Altoon, Nancy Buchanan, Kathryn Garcia, Daniel T Gaitor-Lomack, Jenny Holzer, Paul McCarthy, and Sue Williams.
Craig Krull Gallery has an exciting program for the summer featuring the "all American Jewish Lesbian Folksinger" Phranc and paintings by Connie Jenkins. Thru 8/25/18.
IN THE MUSEUMS
I am delighted that one of Yayoi Kusama's sculptural installations can be found at the Marciano Art Foundation, a venue not to be missed. With All My Love for the Tulips, I Pray Forever (2011) is comprised of oversized flower-potted tulips made from fiberglass- reinforced plastic that are painted with the same red polka dots as the floor, ceiling, and walls, creating an immersive viewing experience while at the same time diminishing the appearance of depth. Ongoing.
The Broad Museum has an interesting exhibition right now entitled A Journey That Wasn't. The exhibition which draws from the permanent collection presents works that explorecomplex representations of time.The exhibition presents more than 20 artists including Bernd and Hilla Becher, Andreas Gursky, Pierre Huyghe, Anselm Kiefer, Sherrie Levine, Glen Ligon, Sharon Lockart, Ron Mueck, Ed Ruscha et al. Thru 2/19.
Judy Chicago's Birth Project: Born Again curated by Dr. Thompson Wylder. 16 examples from the Birth Project is one of the final exhibitions at the Pasadena Museum of California Art . It is an opportunity to revisit a ground breaking work as well as consider both past and present attitudes towards female empowerment and sexuality. In this work, Chicago also explores the boundaries between art and craft. Thru 10/7/18.
The UCLA Hammer Museum's biennial Made in LA returns. This time organized by senior curator Anne Ellegood and assistant curator Erin Christovale. 33 artists were selected this time to represent the diverse and creative landscape of Los Angeles. The list of artists includes Carmen Argote, Beatriz Cortez, Celeste Dupuy-Spencer, Lauren Halsey, Luchita Hurtado, Candace Lin, Nancy Lupo, Linda Starke and many others.  A wonderful overview by          KCRW's Hunter Drohojowska-Philp helps provide some detailed         understanding of these selections. Click here. Thru 9/02/18.
The current exhibitions at MOCA Grand Avenue are Real Worlds: Brassai, Arbus, Goldin and Lauren Halsey: we still here, there. This exhibition selection consists of works by three essential photographers of modern life along with Los Angeles-based artist Lauren Halsey's immersive site-specific installation. Runs thru 9/3/18.
Lauren Halsey: we still here, there is curated by Lanka Tattersall. This is a site-specific installation work created at MOCA's Grand Avenue location. Halsey has built an immersive space resembling a fantastical system of caves that viewers are invited to linger in and explore. This environment will serve as a visionary archive reflecting the diversity of everyday black cultural experiences in South Central L.A., the artist's home since childhood. The artist will continue to publicly transform her installation during the run of the exhibition. Runs thru 9/3/18.
The Craft and Folk Art Museum is featuring 2 compelling exhibitions over the summer. The first is Bamboo which explores the evolution of Japanese bamboo basketry. A major selection of historical and contemporary works from the Los Angeles-based Cotsen Collection are central to the exhibition, as well as a large-scale, interactive bamboo installation by Japan-based artist Akio Hizume. The second exhibit is equally noteworthy featuring artwork by Katherine Gray. Katherine Gray: As Clear as the Experience features conceptual installations of glass. She exaggerates the physical presence of familiar glass forms. Gray uses dramatic lighting and unexpected presentations in this exhibit. An interactive installation gives visitors an immersive experience of the sights, smells, and sounds of the glass blowing studio. This exhibition is supported in part by the Art Alliance for Contemporary Glass. Both exhibitions thru 9/09/18.
OUT OF TOWN BUT NOTEWORTHY
It is in Switzerland where Los Angeles artist, Lita Albuquerque has installed a life-size polymer sculpture of a woman on top of a mountain entitled Transparent Earth. She is made of a laser sintered plastic, is  nude and painted in a vibrant blue and reclines on the mountain with her ear to the ground. It is part of the Horizontal Vertical  which is part of Art Safiental Biennale. The figure has a counterpart in a location exactly on the other side of the globe. Off the coast of New Zealand, lying on the ocean floor, an identical figure will be installed.