I am pleased to say that there are lot a of women artists whose work are in the museums and galleries this month. I do hope to see you at the opening of Art Speaks! Lend Your Voice at Arena 1 Gallery on Thursday, 2/22/18 from 5 to 8 pm.
 IN THE GALLERIES: 
A Little Bit of Madness is the current exhibition at Topanga Canyon Gallery. It is an exhibition of works by members of the Collage Artists of America juried by Melinda Smith Altschuler. I am privileged to be one of those artists with 2 of my most recent collages included with collages by many others. Trouble With Sleep by Karen Schifman. (below right)  2/3-3/18/18.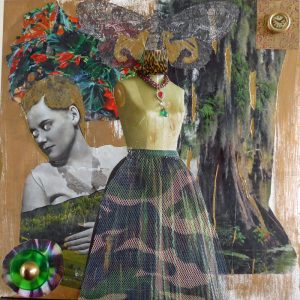 Art Speaks! Lend Your Voice is the upcoming exhibition of the WCA Conference at Arena 1 Gallery. The exhibition includes works by over 60 artists carefully selected by Jill Moniz. These are the artists whose amazing voices are included in the exhibit: Jayne Adams, Kathy Aldous-Schleindl, Shula Arbel, Jenny E. Balisle, Sharon Barnes, Yvonne Beatty, Linda Brookshire, Janine Brown, Lorraine Bubar, Julie Carcione, Michele Colburn, Constance Culpepper, Liz Dodson, Laurie Edison, Beth Fein, Clairan Ferrono, Kim Foley, Megan Frances, Ellen Freyer, Dwora Fried, Christine Giancola, Amy Gilvary, Betty Green, Shelley Heffler, Mary Kamerer, Veda B Kaya, Linda Kunik, Esther Kwan Simon, J. J. L'Heureux, Beth Lakamp, Lynda Levy, Charity Malin, Aline Mare, Robbin Milne, Lena Moross, Sandra Mueller, Mary Nash, Melissa Reischman, Lynda A. N. Reyes, Samuelle Richardson, Julia Rigby, Karrie Ross, Orly Ruaimi, Linda Jo Russell, Marilou Ryder, Seda Saar, Sondra Schwetman, Jacqueline Secor, Rebecca Setareh, Doni Silver Simons, Kerrie Smith, Stephanie Solomon, Leona Strassberg Steiner, Nathalie Tierce, Linda Vallejo, Elise Vazelakis, Arika Von Edler, Elizabeth White, Holly Wong, Joan Wulf and Tina Ybarra. 
I am quite excited about the upcoming exhibition at Hauser and Wirth of previously unseen works on paper by Louise Bourgeois (1991-2010). The works in the exhibition, entitled The Red Sky, were created between 2007 and 2009. They provide a glimpse into one part of her oeuvre and reinforce how essential writing, drawing and printmaking were in this amazing sculptor's artistic practice. I will very likely be at Hauser/Wirth on Friday, 2/23/18 at around 2:30 pm to view and discuss Louise Bourgeois if you would like to join me.  
Also at Hauser and Wirth is Geta Brătescu: The Leaps of Aesop. This is the first Los Angeles solo presentation devoted to the 91 year-old forerunner in the field of Romanian Conceptualism.
Regen Projects presents Catherine Opie's first film, The Modernist. The film is 22 minutes in length and is composed of over 800 black and white still images. Runs thru 2/18/18. 
Anat Ebgi Gallery is pleased to announce Sunset, the first solo exhibition of Caroline Walker in Los Angeles . The exhibition focuses on the figure of a woman within the psychological spaces of a modernist Hollywood Hills home. Large scale paintings as well as works on paper are featured. Runs thru 3/3/18.   
Hive Gallery on Spring St. presents Stitch Fetish 6 curated by Ellen Schinderman featuring works by Meghan Willis and Rebecca Levy. Runs 2/2/18 thru 2/25/18. Opening reception on Saturday, 2/3/18 from 8 to 11 pm. 
The Box Gallery in the Arts District presents Time Smear, an exhibition of work by Simone Forti. Forti, an American Italian artist, began her career as a dancer. She is known for her performances and post-modern works. Runs thru 3/24/18.
Art +Practice presents Maren Hassinger: The Spirit of Things surveying the extensive career of the multi-talented artist (image left). This exhibition presents sculpture, performance documentation and videos that explore the emotional dynamics of relationships among different communities of people and between them and the environments in which they live. Runs 2/24/18 thru 5/26/18. Opening reception on Saturday, 2/24/18 from 2 to 5pm. 
Now I'm going to tell you everything is the inaugural project for ICA LA's courtyard wall on 7th Street, a large-scale temporary work by Los Angeles-based artist Sarah Cain. Spanning 800 square feet, this new work takes its title from a poem written for the artist by celebrated poet Bernadette Mayer. Cain's abstract paintings often flirt with installation, unfolding across walls and floors, uncontained by the frame of the canvas. Recent work incorporates furniture, textiles, jewelry and found objects as a way to break up the experience of painting as a two-dimensional form. Her vivid, playful patchwork of lines and shapes resist simple definition, recalling styles as diverse as abstract expressionism, graffiti, Pop and Feminist craft.
Four Million Angels is the current exhibit at the Annenberg Community Beach House Gallery.   In artworks by artists such as Kathi Flood and Katherine Kean et al, the people of Santa Monica and the environs are the subject. "Four Million Angels investigates the City's history, environment, lifestyle, psychological range, architecture, and geography."  Thru 4/30/18. Artist's talk: Sat, 2/3, 3 p.m. RSVP is required.
Dwora Fried's work will be featured in the upcoming exhibition, Visual Resistance at Fullerton College Art Gallery Runs from 2/1/18 thru 2/21/18. Opening Reception on Thursday, 2/1/18 from 5 to 7 pm.
A Fragile Strength is a solo exhibition of art by Linda Kunik at Gallery 825. Opening reception on Saturday, 2/10/18 from 6-9 pm. 2/10/18 thru 3/9/18. 
IN THE MUSEUMS:
When visiting or driving by MOCA Grand Ave,  note the wonderful mural wrapped museum facade by Njideka Akunyili Crosby. Born and raised in Nigeria and now based in Los Angeles, the MacArthur Foundation Grant Award-winning artist has provided a cinematic narrative there. In her large-scale colorful works, she fuses Nigerian and American source materials, histories and cultural references, and often includes her own family members.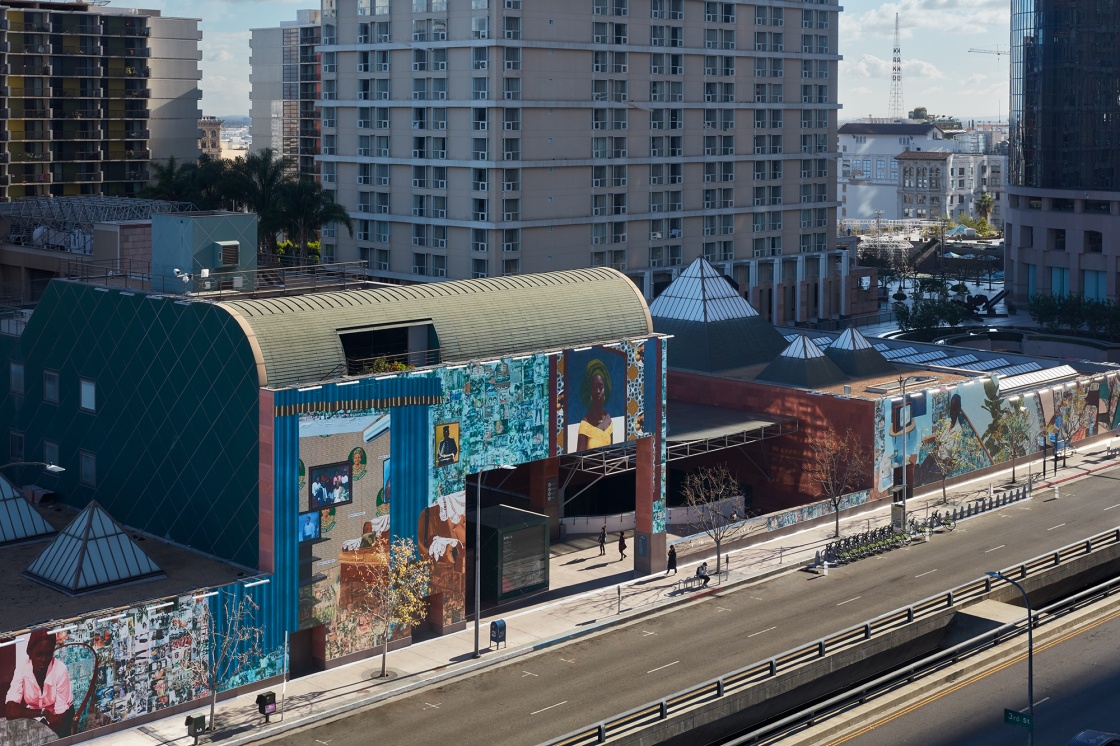 Lancaster MOAH presents three outstanding exhibitions opening this month. Memory and Identity: The Marvelous Art of Betye, Lezley, and Alison Saar (image left) curated by Betty Ann Brown and It Takes a Village, a group exhibition of works by Betye Saar, Lezley Saar, Alison Saar, Wyatt Kenneth Coleman, Richard S. Chow, List Bartleson and Jane Szabo. Additionally, at MOAH Cedar is Continuum: Monica Wyatt, her first installation in collaboration with curator, Jill Moniz. Runs 2/10/18 thru 4/22/18. Opening reception on Saturday, 2/10/18 from 4 to 6 pm.  
Pomona College Museum of Art presents Muse: Mickalene Thomas Photographs tête-a- tête (image right). While working across multiple series, much of her photographic work functions as a personal act of staging and reappropriation both of images she has created herself and images she has singled out as influence. Thomas's portraits draw equally from 1970s black-is-beautiful images of women such as supermodel Beverly Johnson and actress Vonetta McGee; Édouard Manet's odalisque figures; and the mise-en-scène studio portraiture of James Van Der Zee and Malick Sidibé, to mention a few. This exhibition and accompanying publication are the first to gather together her various approaches to photography, including C-prints, collages and Polaroids. The exhibition at Pomona College also includes an installation that represents the artist's studio, a tableau depicted in the photographs. Runs thru 5/13/18.
USC Fisher Museum of Art presents Senga Nengudi: Improvisational Gestures. Nengudi is known for her amazing conceptual and performance work (image left). This is an extensive exhibition representing decades of her interdisciplinary practice. She often draws from collaboration with other artists and disciplines, including dancers and musicians. Blending natural and synthetic materials, including pantyhose, rubber and sand, her sculptures often await the activation of a human body, marking and mystifying the dynamic intimacy between us and the matter that we move through. Runs thru 4/14/18.
Opening later this month at The Main Museum is Dora De Larios: Other World (image left). The exhibition highlights the late artist's ceramic works. In her six decade-long career, De Larios' work has long been undervalued. She operated outside of the gallery system by necessity, carving space for her and her work by starting Irving Place Studio, an independent studio practice, and through large-scale commissions in California, Hawaii, Tahiti, and Japan. Her identity as a Mexican-American woman in a male-dominated art world is deeply reflected in her concentration on and focus on the feminine form in her works. Runs 2/25/18 thru 5/13/18.
Frederick Weisman Museum of Art at Pepperdine University presents Alexis Smith: Private Lives and Public Affairs. For over 40 years, Smith's art has explored the depths of popular culture. She begins with an array of images ranging from thrift-store finds to nostalgic advertisements and juxtaposes them with poetic and poignant texts. Her art underscores how the media shapes our self-image and reminds us that meaning is often transitory and always surprising. Runs thru 4/1/18.
The Pasadena Museum of California Art's upcoming exhibition is The Feminine Sublime. The exhibition will feature paintings that provide a feminist perspective about the concept of the sublime. Exhibition artists and Los Angeles-based painters featured are Merion Estes, Yvette Gellis, Virginia Katz, Constance Mallinson and Marie Thibeault. 
Ana Serrano: Homegrown will also be presented later this month at PCMA (image left). Serrano's immersive "garden" both references a recognizable urban landscape and pays homage to the artist's family connection to the land in Mexico. Highlighting the juxtaposition of the built environment and plant life, the installation is composed of bright-colored walls and lively plants made of cardboard and paper. Runs thru 6/3/18.
The two outstanding exhibitions at the California African American Museum are We Wanted a Revolution: Black Radical Women, 1965-85 and Lezley Saar: Salon de ReRefusés (image right). Runs thru 2/18/18. 
Unspeakable: Atlas, Kruger, Walker at the UCLA Hammer Museum is a selection of video installations from the Hammer Contemporary Collection organized by chief curator Connie Butler, chief curator Annie Butler and director Ann Philbin.  The exhibition features major works by American artists Charles Atlas, Barbara Kruger and Kara Walker  created in the last decade. Among these is Kruger's The Globe Shrinks, a four-channel, 13-minute compilation of video and text that narrates in a series of scenes and skits the conflicting coexistence of kindness and brutality. I was transported in a five-channel installation by Walker that touches on the Civil War, the slave Sally Hemings, the artist's studio and the genocide in Darfur. In this work, Walker's signature silhouettes playing out haunting emotional vignettes are flat hand puppets set against vividly colored backgrounds and accompanied by a soundtrack of country music. Runs thru 5/13/18.