Women Around Town, October 2017
I am so pleased to have discovered that if you miss programs at the UCLA Hammer Museum, many are recorded and can be viewed on their website. I want to bring your attention to the discussion between writer 
Roxane Gay
, Bitch Media cofounder 
Andi Zeisle
r, and the Hammer's chief curator 
Connie Butler
 as they kick off the Hammer's Bureau of Feminism initiative with a discussion of the political, social and cultural relevance of contemporary feminism. Enjoy this important discussion at 
"Bad Feminism"
.
IN THE GALLERIES:
"The Great Wall of Los Angeles: 
Judith F. Baca's
 Experiments in Collaboration and Concrete" at the 
Cal State Northridge Gallery.
 This significant exhibition is a survey of Baca's contributions as a muralist, mentor, educator and community activist. The exhibit is masterfully installed, wonderfully curated, historical and contemporary. Note that this show is part of Getty PST LA/LA.  A conversation between Judy Baca and Amalia Mesa-Bains will take place on 12/2/17 at 2 pm.
Continues thru 12/16/17.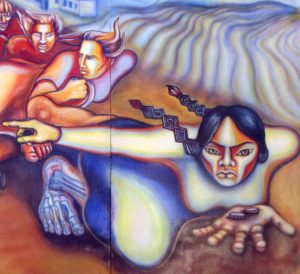 "Revolution and Ritual: The Photographs of 
Sara Castrejón
,
 Graciela Iturbide
 and 
Tatiana Parcero
" is Scripps College's contribution to Getty PST LA/LA in their 
Ruth Chandler Williamson Gallery
. The exhibition focuses on the works of three Mexican women (images on the right) photographers who explore and transform notions of Mexican identity in images that range from the documentary to the poetic. Thru 1/7/18.
Also part of Getty PST LA/LA is the exhibition "
Judithe Hernández
 and
 Patssi Valdez:
 One Path Two Journeys" at 
T
he Millard Sheets Art Center in Pomona
. The two artists took seemingly parallel paths from their childhoods in East L.A. to their coming-of-age during the Chicano Civil Rights Movement in the 1970s. Hernández (image left) was the fifth artist (and the only woman) invited to join the collective Los Four and Valdez was a founding member (and the only woman) in the Asco group. Both went on to successful individual careers. In addition to displaying photographs and other materials to contextualize their participation in these important artist collectives, the exhibition will bring their current works together for the first time, including a new collaborative installation. Thru 1/28/18.
I am especially looking forward to the upcoming exhibitions at 
Craig Krull Gallery
 opening this month. 
Astrid Preston,
 "Upside Down World" and 
Rose Lynn Fisher
, "The Topography of Tears" promise to delight our eyes. Continues thru 11/25/17.
Suzanne Vielmetter Projects
in Culver City presents "Yipes," a fantastic exhibition of new work by local artist
Kim Dingle.
Three new bodies of work made in 2016 – 2017:
Freight Train Crushes
,
Home Depot Coloring Books
, and 
Blindfold Paintings
. Continues thru 11/11/17.
The wonderful 
Porch Gallery
 in Ojai presents "When Ice Burns" an exhibition of new work by 
Diane Best. 
 These works were influenced by the ethereal landscape seen in recent trips to Iceland that included a seven-day journey on a 100+ year old wood schooner through the fjords of remote east Greenland. Continues thru 12/4/17.
Longtime SCWCA member 
Suvan Geer
 has a spectacular installation at the Cal State University Fullerton 
Begovich Gallery
. "What we saw of it…" is an inquiry into the experience of memory. The artist uses multiple video projections, a circling boat made of wind-fall pine needles and fragments of pages torn from her journals. Continues thru 12/7/17.
IN THE MUSEUMS:
"Laura Aguilar
: Show and Tell" is the first comprehensive retrospective of her work.  The exhibition is also part of Getty PST LA/LA at the 
Vincent Price Museum
. It will feature over 100 works produced during the past three decades. Aguilar's highly personal and political imagery intersect performative, feminist and queer art genres. Continues thru 2/10/18.
I recently viewed the Getty PST LA/LA exhibition titled "The US-Mexico Border: Place, Imagination, and Possibility" at the 
Craft and Folk Art Museum
. It presents the work of contemporary artists who explore the border as a physical reality (place), as a subject (imagination) and as a site for production and solution (possibility). Interestingly the exhibition is comprised of work by artists from various disciplines, including design, architecture, sculpture, painting and photography. I was especially mesmerized by the large structure in the entrance space by 
Viviana Paredes
 entitled
 The House that Tequila Built 
that is made from recycled and deconstructed Patrón tequila bottles. This is an excellent example how these artists collectively cross disciplinary borders while addressing the physical and visceral space. Another intriguing example on a small scale is by jeweler 
Haydee Alonso,
 who lives between the border cities of El Paso, Texas and Ciudad Juárez, Chihuahua, and imagines the border as a point of connection between the two cities. This idea is symbolized in her Inter-Acting (2015) jewelry series, where the individual pieces require two or more wearers to achieve their ultimate actualization and function. Among the other artists included in the exhibition are 
Judith F. Baca
, 
Adrian Esparza, Teresa Margolles 
and 
Ana Serrano
. Continues thru 1/7/18.
The long-anticipated exhibition "Radical Women: Latin American Art 1960-1985 is at the 
UCLA Hammer Museum
. This show is part of Getty PST LA/LA and provides visibility to the artistic practices of women artists working in Latin America and US-born women artists of Latina heritage between 1960 and 1985. Fifteen countries are represented in the exhibition of more than 100 artists with 260 works in photography, video and other experimental mediums. Among the women included are emblematic figures such as 
Judy Baca
, 
Barbara Carrasco
, 
Lygia Clark
,
 Sonia Guiterrez
, 
Yolanda Lopez
,
 Ana Mendieta 
and
 Marta Minujín.
 Continues thru 12/31/17.
The California African American Museum presents two stellar exhibitions opening this month. "We Wanted a Revolution: Black Radical Women, 1965-85" focuses on the work of African American women artists by examining the political, social, cultural and aesthetic priorities of women of color during the emergence of second-wave feminism. The exhibition highlights the voices and experiences of women of color as distinct from the primarily white, middle-class mainstream feminist movement in order to reorient conversations around race, feminism, political action, art production and art history in this significant historical period.
The artists represented in the exhibition include Emma Amos, Camille Billops, Kay 
Brown, Vivian E. Browne, Linda Goode Bryant, Beverly Buchanan, Carole Byard, Elizabeth Catlett, Barbara Chase-Riboud, Ayoka Chenzira, Christine Choy, Susan Robeson, Blondell Cummings, Julie Dash, Pat Davis, Jeff Donaldson, Maren Hassinger, Janet Henry, Virginia Jaramillo, Jae Jarrell, Wadsworth Jarrell, Lisa Jones, Loïs Mailou Jones, Barbara Jones-Hogu, Carolyn Lawrence, Samella Lewis, Dindga McCannon, Barbara McCullough, Ana Mendieta, Senga Nengudi, Lorraine O'Grady, Howardena Pindell, Faith Ringgold, Alva Rogers, Alison Saar, Betye Saar, Coreen Simpson, Lorna Simpson, Ming Smith and Carrie Mae Weems (image left).
Also at the California African American Museum will be "Lezley Saar: Salon de Refusés". The exhibition will include  three of Saar's most recent bodies of work: Madwoman in the Attic/Madness and the Gaze, Monad and Gender Renaissance,along with a selection of early altered books that show the origins of the artist's interest in literature, mixed media and marginalized figures. 10/25/17 thru 2/18/18.
I cannot provide enough praise about the amazing and inspiring exhibition of "
Anna Maria Maiolino
" at 
MOCA
.  In this first retrospective in the United States, MOCA brings together over five decades of paintings, drawings, videos, performances, sculptures and large-scale installations to chart the path of an extraordinary artist. Working from a personal narrative about displacement, identity, hunger, and desire, this major mid-career survey focuses on the artist's more than 25-year exploration into ideas of time, narrative, memory and the senses demonstrated in her works on paper, clay,  sculptures and videos. Continues thru 12/31/17.
The Getty PST LA/LA exhibition titled "Another Promised Land: Anita Brenner's Mexico" at the 
Skirball Cultural Center
 offers a new perspective on the art and visual culture of Mexico and its relationship to the United States as seen through the life and work of the Mexican-born, Jewish-American writer 
Anita Brenner
 (1905-1974). Continues thru 2/25/18.