"POWER" is an exhibition at
Spruth Magers
gallery (image left) that surveys the work of various African-American women artists from the 19th century to the present. This show includes work by 37 artists beginning with those born soon after the Civil War. The examples provide some understanding of how these women artists dealt with issues of gender, race and class against the evolving cultural and artistic landscape. Among the artists represented in this significant gallery exhibition are
Beverly Buchanan
,
Elizabeth Catlett
,
Ellen Gallagher
,
Senga Nengudi
,
Lorraine O'Grady
,
Mickalene Thomas
,
Faith Ringgold
,
Betye Saar
,
Kara Walker
and
Carrie Mae Weems
. Thru 6/10/17.
A stunning compliment to the "POWER" exhibition is the current show titled "Signifying Form" curated by Jill Moniz for Landing Gallery (image right). This outstanding exhibition focuses on African-American women artists in Los Angeles and features sculptural works made by them between 1935 and 2016. It includes works by Maren Hassinger, Samella Lewis, Dominique Moody, Senga Nengudi, Allison Saar, Betye Saar and Brenna Youngblood. The exhibition examines the relationship between material and meaning and also focuses on race and gender vis-à-vis Los Angeles as the particular location that allowed these women the space to push the boundaries of what sculpture could be and signify. The exhibition also features foundational works by Elizabeth Catlett and Beulah Woodard, both of whom were instrumental in inspiring and cultivating black art in Los Angeles. Thru 6/3/17.
"Gender Renaissance" an exhibition of work by
Lezley Saar
at 
Walter Maciel Gallery
 (image left). In these paintings Saar continues her interest in fictional characters from Victorian and Edwardian eras. They are surreal portraits with an intricate puzzling of objects to create expression, personality and setting. Done in traditional oval formats set within found antique frames, the subjects are shown as individual portraits with lavish headdresses and outfits and lacking exaggerated facial expressions. In juxtaposition, rectangular canvases reveal scenes of period-dressed figures caught up in the oddities of life. In comparison to the small format paintings, a series of large format banners are included in the show with portraits of female subjects outlaid on quilted fabrics. Thru 6/24/17.
Los Angeles based artist
Susan Amorde
presents an installation of sculptures that explore the notion of baggage (image right), now at
Gallery 825
. Amorde's baggage in all its emotional and physical manifestations is best illustrated by the work,
Block and Tackle,
in which Amorde ropes together four vintage suitcases that are suspended from the ceiling by a huge pulley and held in place by an anchor. "In this work she explores the relationship between floating freely and being tied down." Each suitcase is laden with history and exudes a unique personality. Amorde plays with these tropes, imbuing her works with a sense of nostalgia while simultaneously exploring the more psychological and emotional connotations of baggage. Thru 6/2/17.
"Animating the Archives: The Woman's Building: A Metabolic Studio Special Project in Archiving" at
Avenue 50 Studio
 also features the work of 15 emerging Southern California women artists. These women have created new works about the legacy of the Woman's Building and the feminist art movement. The artists who participated are
Johanna Breiding
,
CamLab
(
Anna Mayer
and
Jemima Wyman
),
Teresa Flores
 (in collaboration with
Maryam Hasseinzadeh
),
Raquel Guitiérrez
,
Hackers of Resistance
,
Onya Hogan-Finlay
(in collaboration with
Phranc
),
Carolina Ibarra-Mendoza
,
Marissa Magalena
,
J. Alex Mathews
,
Felicia 'Fe' Montes
(image right),
Cindy Rehm
,
Gladys Rodriguez
,
Hana Ward
,
Lisa Diane Wedgeworth
and
Diana Wyenn
.  Thru 6/3/17. . See their website for related activities.
"Her Intuition" is the current exhibit at
Brainworks Gallery
. It is curated by
Erin Adams
 featuring works by five local female artists.
Edi Dai
,
Yasmine Diaz
,
Margaret Nielsen
,
Andrea Patrie
 and
Kristine Schomaker
 will present new works that illustrates the myriad aspects of intuition. Thru 5/27/17.
"Personal Narrative" continues at the 
Annenberg Com
munity Beach House Gallery
. The participating artists with diverse backgrounds share personal narratives of immigrant diaspora and gender identity. Among the artists whose work is included in this exhibition are 
Susan Amorde
,
Terry Arena
, 
Bibi Davidson
, 
Dwora Fried
, 
J.J. L'Heureux
, 
Linda Sue Price
and 
Kristine Schomaker
. Thru 6/4/17.
IN THE MUSEUMS:
At the end of the month, we will be treated to an exhibition of work by the legendary Angeleno artist,
Betye Saar. 
"Keeping it Clean" at the
Craft and Folk Art Museum 
will feature the artist's series of washboard assemblage sculptures—an ongoing body of work Saar started in the late 1990s. The washboard is a powerful object that Saar uses to examine the intersection of race, class, and labor.  Two related tableaux and a selection of washboards from Saar's personal collection are also included in the exhibition. 5/28-8/20/17.
I recently viewed both of the following exciting museum exhibitions that simultaneously celebrate the contributions by two important female art dealers, Galka Scheyer (1889-1945) and Virginia Dwan (b. 1931). It is so wonderful that they are both receiving such well-deserved recognition, as they both have had a significant impact on art history.
The Nort
on Simon Museum
 presents "Maven of Modernism:
Galka Scheyer
in California" (image left), an exhibition that delves into the life of the enterprising dealer. Scheyer is known for arranging exhibitions, lectures and publications of the work of what is known as the "Blue Four" (Lyonel Feininger, Alexei Jawlensky, Vasily Kandinsky and Paul Klee). She not only cultivated taste for their work but negotiated sales on their behalf. The exhibition features examples from her personal collection by the Blue Four artists, as well as works by other artists including Alexander Archipenko, László Moholy-Nagy, Pablo Picasso and Diego Rivera. Her Hollywood home, designed by Richard Neutra, functioned as a meeting place and gallery for a cadre of art collectors and specialists.Thru 9/25/17.
"Los Angeles to New York: Dwan Gallery 1959-1971" is presented at LACMA. This traveling exhibition was expanded with curation by Stephanie Barron to emphasize  Virginia Dwan's contributions in Los Angeles with her Westwood Gallery (1959-1967) (image right). It was the one of the only galleries in LA to exhibit serious contemporary art. Dwan imported artists and exhibitions from New York and Europe. Her West Coast enterprise was a leading avant-garde space in the early 1960s, presenting works by abstract expressionists, neo-dadaists, pop artists and nouveaux réalistes including Niki de Saint Phalle, Philip Guston, Franz Kline, Joseph Kosuth, Claus Oldenburg, Robert Rausenberg, Ad Reinhardt and Jean Tinguely. In 1965 Dwan opened a New York venue, the first bi-coastal gallery. Her support and dedication to the Land Art Movement are extremely significant. Enjoy this video to gain a better understanding of her impact on the art world. Thru 9/10/1.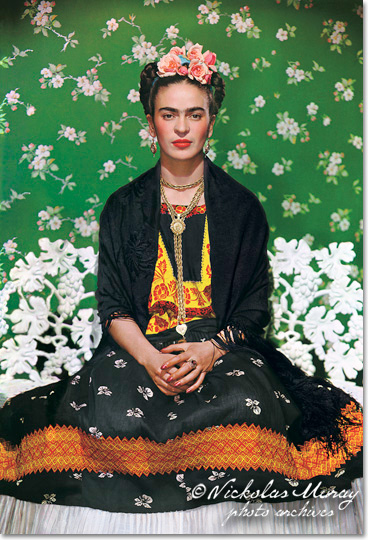 The Museum of Latin American Art presents "Frida Kahlo through the lens of Nickolas Muray" (image left) Approximately 50 photographic portraits taken of Frida Kahlo comprise this exhibition. The photographs, dating from 1937 to 1946, explore Muray's unique perspective; in the 1930s and 1940s he was Frida Kahlo's friend, lover and confidant. Muray's photographs bring to light Kahlo's deep interest in her Mexican heritage, her life and the people significant to her with whom she shared a close friendship. Correspondence between the two is also included in framed reproduction. The Hungarian-born Muray was an acclaimed artist in his own right, having pioneered color portrait photography. Thru 9/03/17.
a multiyear transmedia project exploring the physical, geological and cultural landscape of the Mojave Desert. Marking the production midpoint for this experimental documentary and curatorial project that began in late 2014, the exhibition will showcase over 50 photographs, maps, film shorts and collected ephemera along with the first two volumes of collected field dispatches from the project.  "Made in the Mojave" will feature works by Marthe Aponte, Carol Es (image right), Samantha Fields, Randi Hokett, Aline Mare, Ron Pinkerton, Catherine Ruane, Nicolas Shake and Kim Stringfellow. Thru 7/30/17.
The Palm
 Springs Mu
seum of Art
 features a significant exhibition titled "Women of Abstract Expressionism." More than 50 major paintings are on view by
Mary Abbott
,
Jay DeFeo
,
Elaine de Kooning, Perle Fine
,
Helen Frankenthaler
,
Sonia Gechtoff
,
Judith Godwin
,
Grace Hartigan
,
Lee Krasner
,
Joan Mitchell
,
Deborah Remington 
and
Ethel Schwabacher
. Thru 5/28/17.