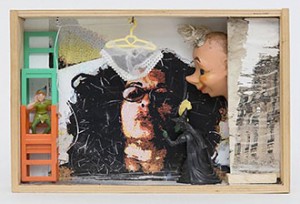 It is such a pleasure to write about SCWCA member Dwora Fried and her wonderful assemblages. Fried will be having a solo exhibition this month at Gallery 825 entitled Big Box/little box. The upcoming exhibition offered an opportunity for me to visit her studio to view her current work and learn more about her art practice. For the past 10 years mixed-media assemblages have been the mainstay of her artistic output. The formal qualities recall the work of Betye Saar, yet the stories and motivations are quite different. Fried's work is informed by her biography. Her biography includes the fact that she was born and grew up in Post-War Vienna, received her art education in Israel, and moved to the United States in 1978. Her oeuvre is heavily informed by being Jewish, the daughter of a holocaust survivor, and her identity as an outsider, a lesbian, wife and mother.
Fried began as a Photorealist painter who moved into collage that blossomed into the 3-dimensional forms for which she is now known. I was particularly delighted to hear that one of her favorite artists and influences is Louise Bourgeois, whose work is also potently driven by personal history. Fried's assemblages are encased in glass covered rectangular boxes populated with an assortment of petite objet trouvé—vintage toys and dolls, discards from her family home, fabrics, photographs and items of the sort. These paraphernalia materialize into narratives that speak of memories, fantasies, truths and the psyche. The box can be a metaphor for the womb, the home, containment, claustrophobia, entrapment and marginalization and Fried utilizes many of these tropes. She employs this scale and format as it invites the viewer into an intimate experience.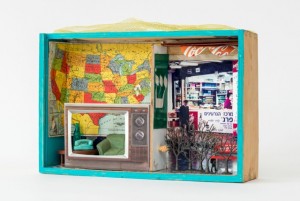 The specific sources for Fried's imagery include her personal feelings as an outsider —as a Jewish lesbian growing up in Post-War Vienna, her visions of what life in America was like continued to cause her to look onto our culture as an outsider. Additionally, the subject of the Holocaust is always on her mind, trying to make sense of that hideous part of her Polish mother's life as a young girl in a concentration camp. Like many artists of that era she tries to work through that confusing time in her art. Hence her tableaux often make little sense with strange juxtapositions—the fears linger on. Another significant source is that of the housewife/mother as photographs of her family figure in her assemblages. Her Austrian Jewish heritage is ever-present as well. The artist put it this way, "I inherited a sense of isolation, displacement and an appreciation for the surreal."
The upcoming solo exhibition will feature many of her small boxes and one of those boxes will be replicated in large scale as the centerpiece—"BIG BOX." It is so large that visitors will be able to sit in the box and experience what it is like to inhabit her world. I had the privilege of doing this in her studio and it was quite a surreal experience as I sat in a child's chair and was confronted with many disparate objects, in particular a nude child-size rubber doll that invaded my space. It is claustrophobic, filled with photographs and objects ranging from plastic forms and everything in between. Fried's boxes are personal, whimsical and compelling. This exhibit proves to truly challenge the concept of the box.
BiG BOX/little box at Los Angeles Art Association, Gallery 825
Runs 1/15/16 thru 2/19/16.
Opening Reception Saturday, 1/16; 6-9pm.