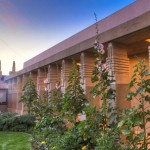 Art is the soul of the people. One cannot look on visions like this without having visions of one's own. Without visions, we are only ants, and our communities only ant hills.
–Aline Barnsdall 
The city of Los Angeles has certainly changed over the last several decades. I have lived here my entire life and have been keenly aware of the architecture since I was a young girl (thanks to my mother). Hence, a trip through the city to Hollywood is always nostalgic but also surprising as there have been so many changes. The kind of change that I am referring to is in regard to the architectural landscape. Neighborhoods… and buildings embedded in my memory as landmarks have been razed to make room for strip malls, skyscrapers, etc. Nestled among all of that remains some truly amazing architectural treasures. What surprises me is that so many people who call Los Angeles home, native or otherwise are so unaware of our architectural treasures. Granted, we are a relatively new city when compared to places such as Philadelphia, London, or Cairo. However, we do have architecturally significant places worthy of visit, worthy of restoration and preservation, and worthy of a visit.
One of these treasured works of architecture is Hollyhock House designed by Frank Lloyd Wright (1867-1959) in 1921. Hollyhock House was part of a dream had by the oil heiress Aline Barnsdall (1882-1946). Now imagine what you might be able to do with a small fortune, a desire for a home and theatre and arts complex, and a great architect at your disposal who would be willing to integrate your favorite flower into the design of said dwelling. Barnsdall had traveled around the world with desires of having her own theatre. She met Wright in Chicago and shared with him her dream of creating a theatrical and artistic community — a creative campus — like the ones she had encountered in Europe. She hired Wright to design the complex. She also asked him to design a home for her, to be located in the center of the campus. In 1919 she purchased 36 acres on Olive Hill in the Los Feliz area to be the site of said complex. (Barnsdall would be pleased that her dream of an arts complex is an important component on Olive Hill today.) Like many of Wright's projects, this one had its fair share of challenges. After disagreements and high costs, Barnsdall fired the illustrious architect and hired the project manager at the time, Rudolph Schindler to complete the home. However, only the home was built, and Barnsdall never moved into the unusual abode. In 1927, Aline Barnsdall gave Hollyhock House and eleven surrounding acres to the City of Los Angeles for use as a public art park in memory of her father, Theodore Barnsdall.
The exterior of the home is quite unusual as it is a Mayan/Japanese style that Wright termed "California Romanza." In keeping with Wright's visual language, the interior and exterior are in harmony. Each major interior space is adjoined by an exterior one. There is a central garden courtyard and rooftop terraces, all keeping the interior and exterior in balance. The home also has amazing views of the Hollywood Hills including the "Hollywood Sign" and the Griffith Observatory; neither were there at the time construction.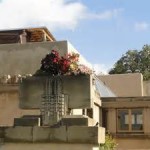 The interior design is quite different than the exterior. As found in other Wright  residences,  low ceilings are intentional as transition spaces, so that when one enters a  major living space  with very high ceilings they would feel the immensity of that  space. The home has many rooms,  however only the main living spaces are currently  accessible to visitors due to restoration  needs and ADA restrictions. Details abound  and the cohesiveness of the design is remarkable.  The dining room in particular is  fitted with built-ins, custom dining table and chairs, and  lighting fixtures that are all  exquisitely crafted. The hollyhock, as I alluded, was Aline Barnsdall's favorite flower  and Wright brilliantly abstracted the form and integrated it into the design details.  For example, it is integrated into the spines of the dining chairs.
Another striking feature is the Hollyhock's centerpiece, the living room fireplace. The hearth is  backed in an abstract, Hollyhock-themed bas-relief, with a detailed skylight above and a pool  below (it's not filled, as water has not been very kind to the house). One may notice how Wright's  admiration of the Japanese aesthetic is included with metaphorical inclusions of the 4 elements:  earth, water, fire and air. The concrete bas-relief represents the earth; the fireplace and torchiere  lamps allude to fire; the skylight in the living room references air; finally a moat that surrounds  the entire home represents water. (Thanks to the Getty Iris for this information)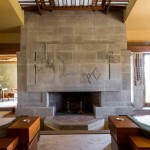 My most recent visit to Hollyhock House was after a  nearly 6  year  and 4 million dollar renovation. What has been restored is near  perfection,  however it  was disappointing that there was limited access. Nevertheless,  great design is  never lost on  me as I revel in the details, the harmony, the spatial  considerations. The  unique house on  Olive Hill is being cared for and that makes me  happy. And people are  visiting. Many of my  students who wanted extra credit added  it to their list of  destinations last semester. To my  dismay, most never questioned why  it was called  Hollyhock House.
Look for more of my architectural purview and musings coming soon.