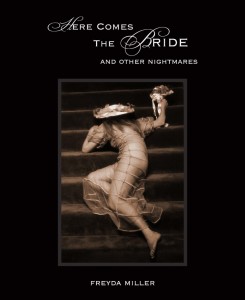 Last year the very talented visual artist Freyda Miller released a book of her photographs. In conjunction with this event, she requested that I write about her work from the art historical perspective and that is what I am sharing with you here.
Freyda Miller's photography combines historical references with contemporary art making practices as exemplified in the images in this volume. As a visual artist, Miller began in the medium of photography. Her years as a production stylist and coordinator in film then led her to assemblage work.  The two mediums meld together beautifully in the carefully staged imagery found in this book.  Her task is not to capture reality at all but to project her imagination in tableaux. Miller studied at UCLA during the late 70's and early 80's under Professor Robert Heineken (1931-2006) then head of the photography department.  She was influenced by both Heineken and his then graduate assistant, Jo Ann Callis (b. 1940). Callis is one of the first important practitioners of the "fabricated photographs" movement. Like Callis, Miller's inventive photographs involve tactile objects and images of people in mysterious, often unsettling narratives. The use of tactile objects in Miller's work is also derived from her intense interest in the oeuvre of the Post-war sculptor Eva Hesse (1936-1970) known for her use of obscure materials such as latex, rope, wire, and fiberglass.
Many of Miller's photographs have similar qualities to those from the 19th century. A continuing thread in her work is the mysterious, Victorian, feminine, wisplike mood seen in her assemblages and photographs. While recalling the historical, her work carries on some of the themes and staging qualities of 19th century photographer, namely, Julia Margaret Cameron (1815-1879). Cameron was a British photographer who poignantly staged her subjects in the mode of a Pre-Raphaelite painting. Her photographs demonstrate carefully directed light, soft focus, and long exposures that allowed the sitters' slight movement to register in her pictures, instilling them with an uncommon sense of breath and life. Miller's imagery recalls that of Cameron's in its staging and mood. Also from the 19th c. is Lady Clementina Hawarden, (1822-65) a British photographer whose imagery is associated with the "closed and restrictive environment of the Victorian woman." Similarly Miller has a penchant for the sentiments and melancholic characteristics of the aforementioned Victorian contributors.
There are other aspects of Miller's work that invite historical referencing. One is its connection to American Pictorialism and the other to Surrealism. A leading member of the pioneering photographic movement known as Pictorialism was Gertrude Käsebier. Pictorialists such as Käsebier demonstrated a subjective, painterly approach to photography rather than a documentary one. Her photographs of women relied on implicit storytelling in the manner of portrait photographer Lady Clementina Hawarden. The long-standing association of women with both nature and domesticity made feminine subjects a favorite in Pictorial practice. Miller's photographs continue this tradition with images that have similar characteristics to Käsebier's, who used Victorian backdrops as did her colleagues, but went beyond that to emphasize the individuality of each subject. The soft focus and velvety surfaces of Miller's photographs are reminiscent of Käsebier's shadowy portraits.
Several of Miller's images recall the dreamlike qualities of Surrealist photographs. Like the Surrealists whose taste for including text, and often quotations was a common strategy, Miller has chosen to juxtapose her imagery with quotes from the annals of literature. Another Surrealist trope seen in Miller's work is the inclusion of dolls. This is characteristic of Surrealist artists such as Hans Bellmer (1902-1975) and László Moholy-Nagy (1895-1946), whose inclusion of dolls was part of their dealings with the realm of the fantastic, adding a menacing quality to their images. Miller's work that includes dolls is dreamlike but non-threatening. A glimpse of the body is another strategy initially employed regularly by the Surrealists. Examples of those works rarely offer the body in whole form. In Miller's oeuvre the body is not objectified for the male gaze, but it's often veiled and incomplete presence creates endless ambiguity and attraction as an object of possible pleasure. In this manner, Miller offers the body to the imagination; resulting in enigmatic imagery.
Miller's oeuvre has a significant place in the trajectory of art history. She recalls the historical and brings forward a unique personal body of work. As a Postmodernist, she invents her subjects, fabricates them, arranges, changes and stages. She is an artist who is well aware of history and has acknowledged that in Here Comes the Bride and Other Nightmares.