Is summer over? I know that some galleries are now open by appointment, however I am very hesitant about things returning to "normal" in the artworld in 2020.  I will keep my optimism at bay with the looming virus and flu season, election results, civil unrest, and climate realities. The petite artwork seen here is by yours truly and addresses some of our current concerns and how this all makes me feel…oh! -the title is Uncomfortable.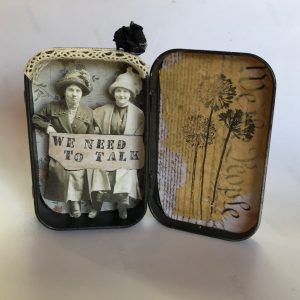 IN THE GALLERIES AND VIRTUAL SPACE
The current exhibition at Sprueth Magers Gallery focuses on the work of Senga Nengudi. Nengudi's oeuvre situates itself at the threshold of sculpture and object-related choreographed performance. She is known for work that uses such ordinary materials as nylon stockings. This current exhibition brings together 2 large-scale projects, Bulemia and Sandmining. Each of these works characteristically demonstrate the use of everyday materials and  a unique approach to using form and space. Thru Oct. 2, 2020.
"The Art of Coping" is the current virtual  exhibition by Women Painters West. Click here to view. Here is one of the stunning works in the exhibit by Nancy Goodman Lawrence.
Shoshana Wayne Gallery presents Forms Fired, a collection of over 40 contemporary sculptures in clay on loan from galleries, collectors and artists worldwide. They all make fired forms, but unlike traditional ceramics their objects eschew functionality—relationships between a viewer, object, and space often define the meaning, sometimes in order to make social or political statements or in an attempt to stretch formal, conceptual or material boundaries. In sum these are sculptures in the round that inspire us through imagination, ideas, skill and beauty. In this virtual exhibit, works by Ann Agee, Kathy Butterly, Nicole Cherubini, Petah Coyne, Anina Major, Lindsey Mendick and many others shine. Thru Dec.  31, 2020.
David Kordansky Gallery is open by appointment only with upcoming shows by two women artists, Linda Stark and Lesley Vance. Hearts by Linda Stark best described on their website "these paintings frequently address varied iconographies associated with this most resonant of forms. Hearts occupy the literal and figurative centers of human and animal life, but they also appear in a wide range of social and narrative contexts… Emphasizing the physical, even sculptural, qualities of paint as much as its visual or color-based ones, Stark creates objects that reflect the multivalent potential of the heart as vessel and beacon, physical organ and mystical source. In so doing, she reveals a broad array of interests, notable for their historical depth and up-to-the-minute urgency alike. The suffragette movement and the fight for women's right to vote; the use of hearts in medals for military purposes; the emotional power of religious imagery; and the ability of a heart to transform another image, like a watering eye, into something richly metaphorical are a few of the thematic areas Stark explores in the show. But these are also highly personal paintings that arise as responses to inner experiences of mind and body. Often years in the making, they are meticulously planned and executed so that they engender intimacy, wonder, and surprise."  Additionally large scale by Lesley Vance emphasize relationships between light and shadow, exploring different perceptions of space, and reckoning with the materiality of color.   09/19-10/24/20.
IN THE VIRTUAL MUSEUM SPACE
Enjoy the Southern California Contemporary Quilt exhibit online at the Oceanside Museum of Art. Works by 36 artists who live and work in our vibrant and diverse region provide varied interpretations of life. They certainly do not abide by traditional quilt patterns, some incorporate the latest modern technology with time-honored quilting techniques for art on the wall, free standing sculptures, or ceiling mounted hanging forms.   The results are images ranging from the mountains to the oceans, from urban lifescapes to rural farmland to the stark, compelling desert. Among the artists in this exhibit are Linda Anderson, Charlotte Bird, Lynne Hodgman, Sandra Lauterbach, Kathleen McCabe, Nelda McComb, Kathy Piper, Dinah Sargeant,  Heather Urquhart, Libby Williamson and many others. Thru February 21, 2021.
The Body, The Object, The Other exhibit at the Craft Contemporary Museum can be enjoyed online through January 2021. The exhibit is their 2nd annual Clay Biennial and features contemporary ceramic practices that start with the human figure as the basis for material and conceptual experimentation. The exhibition presents works from 21 emerging and established artists who challenge traditional notions of the body, the self, and systems of representation. Works in the exhibition include sculptural objects, site-specific installations, and performative works.