Happy Galentines Day! There certainly is a lot to see this month. Enjoy!
IN THE GALLERIES
My husband and I stopped by Walter Maciel Gallery on a Saturday afternoon to view the exhibit,  A Conjuring of Conjurers by Lezley Saar. We were fortunate that the artist was there so I could chat with her about this amazing art. She explained the research involved in finding the inspiration for this body of work. "Conjurers" are depicted in myriad ways, from mannequins to paintings to manipulated photographs. Much of it comes solely from her imagination. Each of the mannequins was dressed in garments sewn and assembled by Saar and then embellished with a plethora of ephemera, much she had laying around the studio and house. Here is a wonderful review of the exhibit in Art and Cake by Betty Ann Brown: "Lezley Saar: History, Spiritualism and the Construction of New Narratives" Thru February 22, 2020.
Coincidentally, coinciding with her sister's show is the current exhibit at L.A. Louver featuring the work of Alison Saar. Syncopation offers an array of her printmaking examples some on paper and some on repurposed worn fabric. A good example (seen below) is Redbone Blues, an intaglio print on found vintage handkerchief (2017). Printmaking for Saar is something that corresponds with her sculpture making, often using the same types of materials, methods, and inspiration. Another example is the use of cast-off objects like old chair backs and found ceiling tin become the foundations for etching or lithography plates. Carved panels used for woodblock prints echo the techniques established in her hewn wooden forms.  Thru February 29, 2020.                                                                     
You can also view new works by Alison Saar: Chaos in the Kitchen at Frieze Los Angeles at Frieze Los Angeles at Paramount Studios.                                                            February 14-16, 2020.
Art + Practice presents Collective Constellation: Selections from The Eileen Harris Norton Collection. This exhibition draws from philanthropist, art collector and Art + Practice co-founder Eileen Harris Norton's collection, showcasing a selection of artworks by women of color. Each of the artworks are powerful on their own as bold statements of artistic identity. Together they reveal a biography of their collector and offer a deeper look into the vast creative production of women of color.Works range from painting and sculpture to video and installation, and include artists such as Wangechi Mutu, Shirin Neshat, Betye Saar, Doris Salcedo, Amy Sherald, Doris Salcedo,  Lorna Simpson, Carrie Mae Weems and Brenna Youngblood. February 8, 2020 – August 1, 2020.
Opening: February 8, 2020, 2-5 p.m.
Interval is an exhibition at CSU, Northridge Art Gallery by artist and faculty member, Anita Bunn. The works for Interval are comprised of lithographs made from digital captures and manipulated photographs from Bunn's personal archives that address her interest in combining traditional analog techniques with contemporary digital photography. Thru February 13, 2020.
Reception: Saturday, February 1, from 4-6pm
Kristine Schomaker: Perceive Me is the current exhibition at the Ron Silverman Gallery at Cal State, Los Angeles. As an artist and curator, Schomaker has created a spectacular collaboration that celebrates herself in addition to educating the larger world about acceptance. Shomaker explains, "'Perceive Me' is not just an exhibition or a catalog or Instagram posts. It is a platform for empowerment, for owning who we are, for being unique and authentic, for taking back our bodies in the #metoo movement, for being true, powerful and strong no matter what body shape, size, color, gender we are. 'Perceive Me' is for everyone." Among the 60 artists whose works depict her in one way or another are Betzi Stein, Bibi Davidson, Bradford J Catherine Ruane,  Debbie Korbel,  Diane Cockerill, Holly Boruck, , Jane Szabo, Janet Milhomme,  Karen Hochman Brown, Kim Kimbro, L Aviva Diamond, Nancy Kay Turner, Nurit Avesar,  Sheli Silverio, Susan Amorde, Susan T. Kurland, and Tanya Ragir. Thru February 24, 2020. Artist Talk with Alexandra Grant Sun February 2, 2-4pm
Artist Talk with Leslie Labowitz-Starus Sun February 16, 2-4pm
Artist Panel and Closing Reception Sat February 22, 2-4pm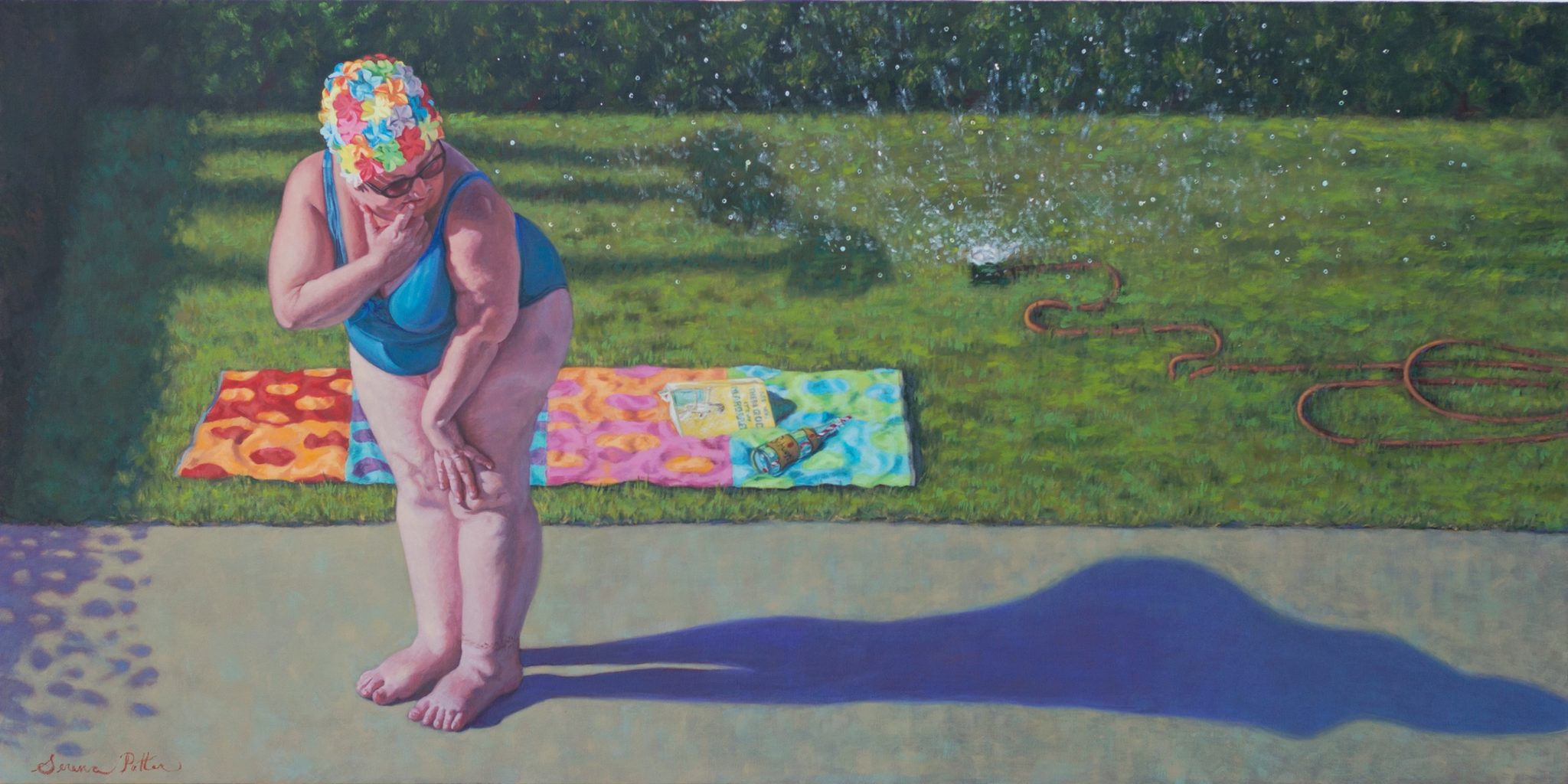 David Kordansky gallery presents sculptural painting installations by Lauren Halsey. The gallery is filled with  "a vivid, mythopoetic hauntscape of South Central Los Angeles". These latest works continue Halsey's exploration of monuments, memorials, and public space, particularly her reckonings with gentrification and the threatening economic displacement of Black and Latino/a stores and shops. "These works are like South Central L.A. business taxidermy," Halsey says of several pieces in her new sculptural installations. She arranges the large cubes and prisms—a play on the "big box" retail developments that often replace local, independent retailers—in assemblages which evoke bristling city blocks.  Thru March 14, 2020.
SoLA Contemporary presents Women by Women 2020: Depictions and Interpretations by Greater Los Angeles Women. The exhibit is curated by Sharon Allicotti with curatorial advisor Fatemeh Burnes. Several local artists have provided depictions and interpretations of actual women and girls as subject. The exhibit marks   the centennial of the 19th Amendment to the U.S. Constitution granting women the right to vote. Artists: Sharon Allicotti, Chloe Allred, Jodi Bonassi, Kaleeka Bond, Ada Pullini Brown, Leslie Brown, Therese Conte, Lani Emanuel, Zara Monet Feeney, Melanie Florio, Ashley Gardner, Candice Gawne, Ja'Rie Gray, DJ Hall, Lanise Howard, Regina Jacobson, Linsley Lambert, Margaret Lazzari, Lucinda Luvaas, Aline Mare, Judy Nimtz, Aihua Pearce, Serena Potter, Hope Railey, Linda Santana, Betty Shelton, Cynthia Sitton, Ondy Sweetman, Cynda Valle and Ruth Weisberg. Thru March 7, 2020.
Closing + Talk Saturday, March 7, 2020, 2-4 p.m.
This PLACE is a group exhibition at Quotodian: a jill moniz project. All of these artists are addressing ideas about geographical and cultural perceptions of place. The exhibit highlights local artists whose work relies on the creative energy of Los Angeles for inspiration. Included in the exhibit are June Edmonds, Dwora Fried, Fran Siegel and others.
The Armory Center for the Arts in Pasadena presents Tanya Aguiniga: Borderlands Within. She has created a project that draws from her lived experience of the US/Mexico border. Her art involves anexperimental approach to craft, using fiber, ceramics, hand-blown glass, and traditional techniques to generate conversations about and across political and cultural divides. Along with the Los Angeles debut of some of the artist's most iconic works, including the binational border-epic AMBOS, this exhibition will also feature a site-specific commission that repurposes the Armory as an immense, artist-activated loom. You can learn more about this amazing artist by seeing her on YouTube. February 9-August 9, 2020.
IN THE MUSEUMS
There are several continuing museum exhibitions that you don't want to miss.
The current exhibition at the Long Beach Museum of Art is Decade by Decade: Women Artists of California. The artworks are all culled from the museum's extensive collection.  Thru April 26, 2020.
Of special note is the current exhibit at the UCLA Fowler Museum, Rina Benerjee: Make Me a Summary of the World. Here, several of Banerjee's monumental installations, more than two dozen sculptures, as well as a  selection of works on paper create an otherworldly and multi-sensory space. "Using a variety of gathered materials ranging from African jewelry to colorful feathers, light bulbs, and Murano glass, Banerjee's works investigate the splintered experiences of identity, tradition, and culture, prevalent in diasporic communities. These sensuous assemblages present themselves simultaneously as familiar and unfamiliar, thriving on tensions between visual cultures and raising questions about exoticism, cultural appropriation, globalization, and feminism. Her works are paired with thought-provoking and poetic titles that are works of art in themselves, ranging in length from 50 to nearly 200 words." Thru May 31, 2020.
The 2nd Clay Biennial at Craft Contemporary  is a must see. The Body, The Object, The Other features 21 artists whose practices reflect the expanding notion of figuration within ceramics. All of the artists use the human body as their starting point to challenge traditional notions of representation, often going beyond the bounds of a recognizable figure. Among the participating artists are Jenny Hata Blumenfield,  Phyllis Green, Raven Halfmoon, Roxanne Jackson (image above), Anabel Juarez, Cynthia Lahti, Galia Linn, Nicole Seisler, and Meghan Smythe. Thru May 20, 2020. February 16, 2 p.m.: Curator's Walkthrough: Holly Jerger and Andres Payan Estrada.
The Medea Insurrection: Radical Women Artists Behind the Iron Curtain continues at the Wende Museum Among the many artists whose works are included:  Magdalena Abakanowicz, Tina Bara, Chelle Barbour,  Sibylle Bergemann, Geta Brătescu, Anna Daučíková, Lezley Saar, Zorka Ságlová, Christine Schlegel, Cornelia Schleime, Gabriele Stötzer, Erika Stürmer-Alex, Hanne Wandtke,  Doris Ziegler, and  Sichong Xie. Thru April 5, 2020.
Käthe Kollwitz: Prints, Process, Politics continues at the Getty Center Research Institute galleries.  A selection of works on paper including rare preparatory drawings, working proofs, and trial prints—shed light on Kollwitz's creative process and reveals the depth of her social and political engagement. Thru March 29, 2020.
With Pleasure: Pattern and Decoration in American Art 1972–1985 continues at MOCA.  It is the first full-scale scholarly survey of this groundbreaking American art movement, encompassing works in painting, sculpture, collage, ceramics, installation art, and performance documentation. Interesting that Silvia Sleigh's Turkish Bath (1973) is one of the many works in the exhibit. This exhibition traces the movement's broad reach in postwar American art by including artists widely regarded as comprising the core of the movement. Among the many artists are  Merion Estes, Valerie Jaudon, Joyce Kozloff, Kim MacConnel, Miriam Schapiro, Sylvia Sleigh  and Betty Woodman. Thru May 11, 2020.
Finally at LACMA, the exhibition of works by Julie Mehretu continues. It includes nearly 40 works on paper with 35 paintings dating from 1996 to the present by the Ethiopian-born artist.  Here is a link to Art 21 to learn more about this artist. Floor 1 Thru March 22, 2019; Floor 3 thru May 17, 2020.
And…Betye Saar: Call and Response continues. This wonderful yet rather small exhibition focuses on her sketchbooks and their transition to finished works in physical form. I found each of the works quite moving; they are personal, poetic and important.  I recommend getting the catalogue. Continuing thru April 5, 2020.