Each fall semester I teach a course on the history of Women in the Visual Arts. This week in particular we are focusing on the French and English female Academicians, reminding me of the many struggles women artists had and continue to have. With that in mind, I am especially grateful to have exhibited some of my own artwork recently in the Just Your Imagination exhibit the San Fernando Valley Arts Center and I will also have another in the upcoming #ENOUGH exhibit at the Neutra Museum Institute. When you are part of a community of artists, the support is quite significant.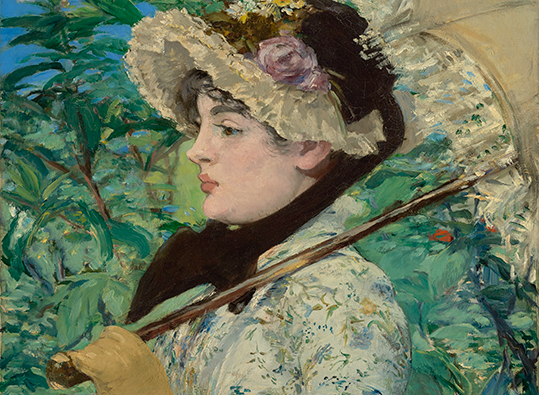 Finally, right now as far as exhibitions go, I am eager to see the upcoming exhibit at the Getty, Manet and Modern Beauty. This is the first-ever exhibition to explore the last years of Manet's life and career. The exhibit will include  portraits, luscious still lifes, delicate pastels and watercolors, and exquisite café and garden scenes. This selection conveys his rather elegant social world and reveals his growing fascination with fashion, flowers, and modern femininity, as embodied in the parisienne. I can't wait! 10/08/19-1/12/20.
UPCOMING EVENTS
Marciano Art Foundation presents a screening of Gloria's Call, and Dr. Gloria Orenstein's "Reclaiming her BIRD-RIGHT: Leonora Carrington Prepares Her Sacred Journey to the Otherworld", an excerpt of her lecture recently given at the opening of the Museo Leonora Carrington in San Luis Potosi, Mexico. The program will conclude with a Q and A session moderated by Olivia Marciano.
Free tickets for this program will be available on October 26 at 1pm.
#ENOUGH is the upcoming exhibition at the Neutra Museum Institute in Silverlake. The exhibition will feature works by members of So. Calif. Women's Caucus for Art. (NOTE: I will have a collage exhibited in this show) 10/12-10/27/19.
IN THE GALLERIES
After reading the review in the Los Angeles Times of the current exhibition at Lora Schlessinger Gallery, I needed to see it for myself. Patty Wickman, All is Leaf is comprised of several oil paintings, some derived from experiences in nature and others from a practice of painting one composition a day for  each of the 40 days of lent. These are exquisite examples of an artist who deftly handles the paint on her surfaces and whose passion transcends the physical properties of the canvas. Thru 10/19/19.
Walter Maciel Gallery is pleased to present Hitch by Cynthia Ona Innis.   The exhibition includes works on panel, canvas and paper. She is inspired by the Central California landscape. Her interest in the diverse environments of California including the San Andreas Fault and the dramatic and ever-shifting land that it produces is the catalyst for this exhibition, explored through the combination of paint, ink and fabric on various surfaces. The works are derived from a process of manipulating materials and space, exploring natural phenomenon and experiences through abstractions. Thru 10/25/19.
Judy Chicago: Los Angeles continues at Jeffrey Deitch Gallery.  Works  from the years 1965-72 include drawings, paintings, sculptures, installations and documentation of her environmental and fireworks projects will be on view. The exhibition not only provides an opportunity to see artworks that have not been exhibited for decades, it additionally offers a glimpse into the beginnings of what has and continues to be a remarkable career by a very influential woman artist. Thru 11/02/19.
Sprüth Magers presents works by Karen Kilimnik.  In paintings, sculpture, video and installation, she brings together historical cultural references—including ballet, the aristocracy, 14th to 18th-century painting, Romanticism, and the Second World War—with the spheres of books, music, film and television. Thru 10/26/2019.
Blum and Poe Gallery continues their 25th anniversary with re-install of Anya Gallaccio's Stroke – a visceral installation of thick, dark chocolate smeared on the gallery walls. Thru 10/26/19.
Beatrice Wood: Bed Stories and More is the current exhibition at Porch Gallery These are works on paper and not ceramics which Wood for which she is mostly known. Published by Lee Waisler in 1987, when Wood was in her nineties, the hand-painted etchings that comprise this series further demonstrate her unique creativity. Thru 12/01/19.
Sanctuary, the first installation of multi-year project by Pam Douglas at TAG Gallery  Life-size drawings of refugees walking behind a chain link fence and children trapped behind ropes fill the gallery. The 60-foot installation makes the viewer a witness to the refugee journey. This work is a" visceral response to their humanity." Thru 10/19/19.
IN THE MUSEUMS
Later this month at MOCA  will be With Pleasure: Pattern and Decoration in American Art 1972–1985. The first full-scale scholarly survey of this groundbreaking American art movement, encompassing works in painting, sculpture, collage, ceramics, installation art, and performance documentation. Covering the years 1972 to 1985 and featuring approximately fifty artists from across the United States, the exhibition examines the Pattern and Decoration movement's defiant embrace of forms traditionally coded as feminine, domestic, ornamental, or craft-based and thought to be categorically inferior to fine art. Some of the artists included are Valerie Jaudon, Joyce Kozloff, Kim MacConnel, and Miriam Schapiro. Artists whose contributions to Pattern and Decoration have been underrecognized, such as Merion Estes, Dee Shapiro, and Kendall Shaw. Artists who are not normally considered in the context of Pattern and Decoration, such as Emma Amos, Billy Al Bengston, Al Loving, and Betty Woodman are also included in the exhibit. Though little studied today, the Pattern and Decoration movement was institutionally recognized, critically received, and commercially successful from the mid-1970s to the mid-1980s. The overwhelming preponderance of craft-based practices and unabashedly decorative sensibilities in art of the present-day point to an influential P&D legacy that is ripe for consideration. 10/27/19-5/11/20.
Also at LACMA  is long awaited exhibition
Betye Saar: Call and Response.
This rather small exhibition focuses on her sketchbooks and their transition to finished works in physical form.  Do read the review of the exhibit in the
Mary Corse:
A Survey in Light
continues at
LACMA.
Corse emerged in the mid-1960s as one of the few women associated with the West Coast Light and Space movement. She shared with her contemporaries a deep fascination with perception and with the possibility that light itself could serve as both subject and material of art.  
Thru 11/11/19.
For her exhibition,
Open House: Gala Porras-Kim
at MOCA, the artist seeks to explore the ways in which museums act as stewards of the art it owns. "Her exhibition brings together a diverse set of artworks (and other ephemeral materials) to shed light on the role the museum and its staff of curators, registrars, and conservators play in the life of the works in its permanent collection. To do so, she has sought out artworks that challenge the perception that a museum's permanent collection is comprised of immutable objects frozen in time. Using artworks that are ephemeral, transitional, malleable, decaying, or even made to expire, Porras-Kim's exhibition will showcase the ways in which museums play an active role in the conservation, display methods, archiving, interpretation, and even the physical form of the works in its permanent collection." (MOCA) 10/07/19-05/11/20.
Craft Contemporary is featuring some compelling exhibitions opening this month.
Finding the Center: Works by Echiko Ohira
Los Angeles-based artist Echiko Ohira examines her prolific artistic production over the last two decades. Ohira's work is founded upon the use of repurposed paper, with her love of the material springing from her childhood in Japan and its vast paper traditions. In addition to paper, Ohira utilizes nails, thread, and other found materials to create sculptural forms and collages that explore the physical and spiritual centers of the human body, natural world, and larger cosmos. Thru 1/05/20.
Cynthia Minet: Jacked
Los Angeles-based sculptor Cynthia Minet's colorful, multi-media installation is one-part animal and one-part machine. Combining the form of the panthera atrox – an extinct North American lion whose remains have been excavated from the La Brea Tar Pits – with a modern-day oil pump jack, Minet addresses our complicated relationship with petrochemicals and the specific cultural and geological history of the Miracle Mile neighborhood. Thru Jan. 5, 2020.
Dress Rehearsal continues at the Oceanside Museum of Art curated by Kate Stern. The intersection between art and fashion is represented by artists Melissa Meier, Mary Tuma, Alexandra Dillon, Janet Taylor Pickett, Gwen Samuels, Carolyn Hampton, Yaya Chou, Leigh Salgado, Marian Debris, et al. The myriad ways a garment can be interpreted and represented is showcased in this exhibit. The media ranges from sculpture, installation, paintings, photographs, and mixed-media.  Thru 1/19/20.
OBSIDIAN LADDER, a site-specific installation by Bolivian-American artist Donna Huanca continues at Marciano Foundation. Thru 12/01/19.
Also continuing at Marciano is Anna Uddenberg: Privé.  Uddenberg explores social conventions and norms that are the product of consumer culture. Thru 12/22/19.