I had mixed feelings when I read that SFMOMA was planning to sell a Mark Rothko painting valued between 35 and 50 million.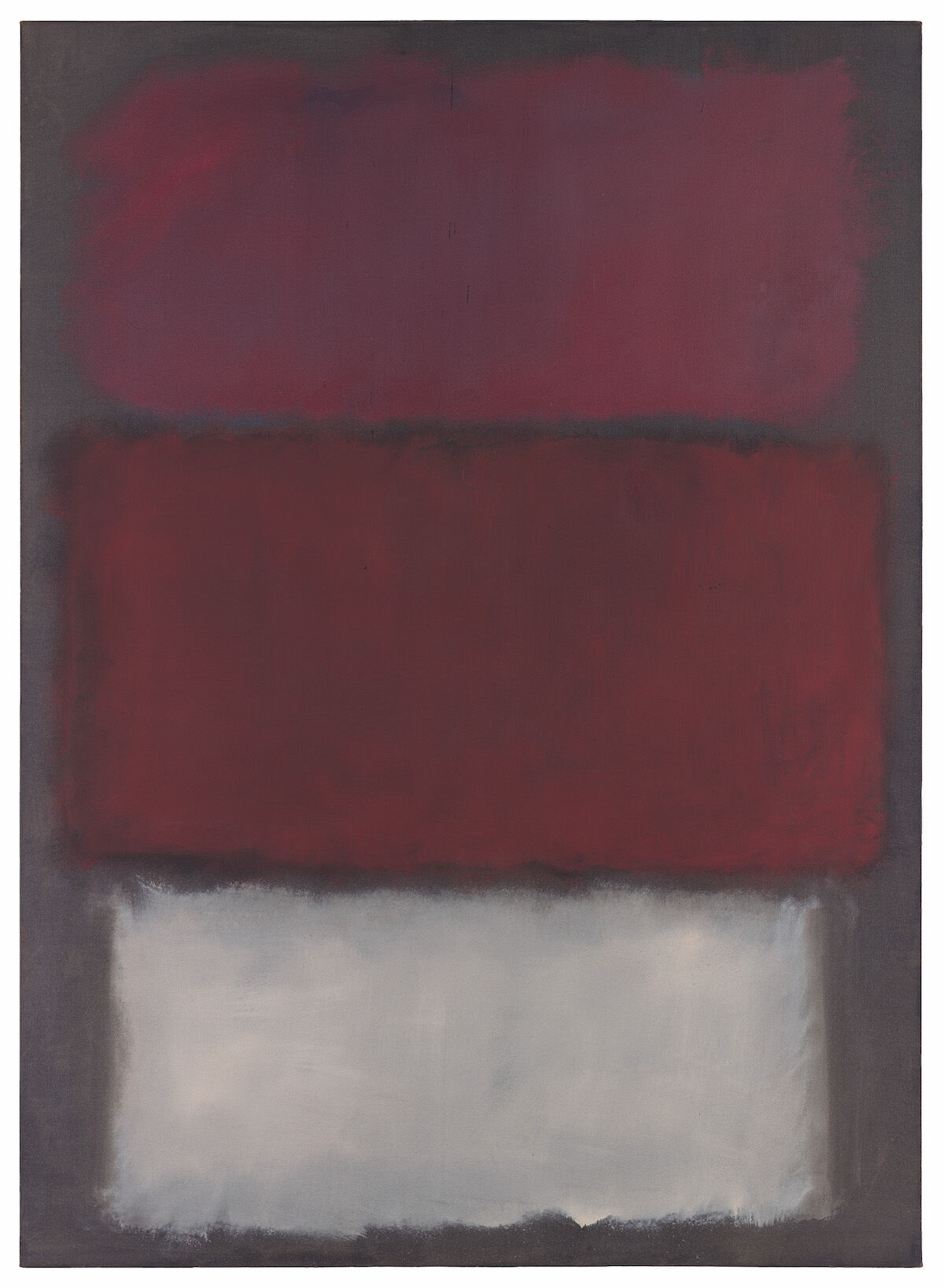 I have sat in front of this work many times getting lost in his floating rectangles of pigment, and I will miss it. Then again, would it not be more satisfying to sell that painting and replace it with several works by women artists and people of color? You can see the dilemma here. In the end, this move by the museum is part of a trend by some major museums who are attempting to diversify their collections; hopefully in this case the funds will be used wisely.
IN THE GALLERIES
Valley Girl Redefined is the current group exhibition at the Brand Library Gallery. Curated by 11:11: A Creative Collective, the exhibit features work by a diverse group of artists challenging and addressing the stereotype of a "valley girl."  Rachel Apthorp, Judy Baca, Hilary Baker, Lynn Coleman, Gioj DeMarco, Kathi Flood, Ashley Hagen, Janna Ireland, Casey Kauffmann, Water Kerner, Karla Klarin, Constance Mallinson, Rain Lucien Matheke, Ashley Mistriel, Robin Mitchell, Michelle Nunes, Erika Ostrander, Sarah Ponce, Christina Ramos, Monica Sandoval, Vivian Shih, Erin Stone, Emily Sudd, and San Fernando Valley Zine Fest present work in a variety of media through a myriad of messages about identity and place. Thru 3/22/19.
Women in Windows is a multi-part video installation which focuses on the confluence of culture, religion and society in an exploration of female identity. It is the current exhibition featured in the windows of the storefronts along the historic Chung King Road featuring videos by 6 women artists from diverse cultural backgrounds: Alima Lee, Arshia Fatima Haq, Gazelle Samizay, Jasdeep Kang, Muna Malik and Yumna Al-Arash. The exhibition curated by Zehra Ahmed is playing with the long known notion of "woman as object", cleverly subverting this idea. Thru 3/17/19.
Suzanee Vielmetter Projects
is currently exhibiting 
I Will Be Your Server (The Lost Supper Paintings),
a rediscovered cache of paintings by
Kim Dingle.
These works represent a body of work started and completed 14 years ago during a time when the artist opened a full service restaurant in her Eagle Rock studio.  Over the years these paintings were "lost" and misplaced as they were made of thin vellum panels which could easily be filed away in a 24 inch pizza box.  Thru 4/13/19.
Lisa Anne Auerbach: Libraries is the current exhibition at Gavlak Gallery Auerbach's work is focused on the theme of publishing. Here this focus can be understood not only through the actual subject matter of books, but also by how Auerbach "prints" each work in her studio using large, nearly archaic, knitting machines. As part of the process, Auerbach strips each book of it's original graphic design, size, and color, and remakes them into flat, almost pixelated, knitted rectangles with handwritten or occasionally typeset titles. She stitches using Merino wool on to canvas to create these artworks. I am totally mesmerized by her technique. Thru 3/16/19.
Mixed-media works by Laurie Raskin are featured at Skidmore Contemporary. LA Story. These mixed-media images have a nostalgic quality to them evoking mid century modern design and local culture. Raskin combines monoprints with paint and collage imagery resulting in these personal lively works.
Thru 3/16/19.
First Independent Gallery (FIG) presents Hillary Taub: Recent Work.  These recent figurative works and abstractions are the result of meticulous observation and disciplined execution. Taub writes of her work, "These pieces grew out of a lifetime of figure drawing and a love of abstraction; a joy of pushing paint around a canvas and the appreciation of the elegance of a charcoal line; the beauty of shapes against open space.  As I continue to explore the dialog between line and paint, abstraction and figuration; I find myself searching for harmony.  Like the world around me, my work has become more complex and chaotic. Yet in the confusion I feel a need to find beauty." Thru 3/23/19.
Rona Pondick: Works 2013-2018 is an exhibition of new sculptures at Zevita Marcus Gallery. In 2013, Pondick began an intensive period of experimentation with materials that were new to her practice: resins and acrylics. Over a period of five years, she developed complex methods of working with these materials and came to understand their sculptural potential. This exhibition is the first time this body of work has been seen on the West Coast.  Thru 3/30/19. 
Anat Ebgi presentes Faith Wilding, Scriptorium Revisited. Wilding is well-known fo her early involvement in Feminist Art Movement. In this body of work she is inspired by the 12th century German abbess Hildegard von Bingen, who greatly contributed to the fields of music, medicine, biology and the visual arts, Wilding's Hildegard series portrays biological life cycles using botanical imagery, realized in an array of mediums including gold-leaf, stenciling, ornate patterning and cut-outs.The Hildegard series extends the mystic's work into an "eco-feminist mythology," informed by contemporary biopolitics, offering a feminist counterpoint to Western and male-dominated narratives. Thru 3/9/19.
Regen Projects is pleased to announce Land and Sea, the first solo exhibition by Los Angeles-based painter Silke Otto-Knapp to be held at the gallery. Otto-Knapp is known for her unique landscapes and figurative tableaux that engage with the history of painting. Her signature style employs subtle washes of watercolor, slowly built up and removed layer by layer on the surface of the canvas to create form. The main part of the exhibition presents six watercolor paintings that wrap around the walls of the gallery like a sweeping horizon line. Spaced apart from each other, and installed low on the wall, the paintings achieve a weighted physical presence, and depict a group of seascapes. Thru 3/30/19.
Annie Lebowitz: The Early Years 1970-1983 Archive Project No. 1 continues at Hauser and WirthWorks on view trace Leibovitz's development as a young talent capturing the dramatic cultural and political shifts of the Seventies. Arranged chronologically and thematically, the exhibition begins with her work for Rolling Stone magazine and advances through her visual chronicles of defining moments and key protagonists of the decade. Thru 4/14/19.
Unusual Views is a group exhibition at the Sturt Haaga Gallery at Descanso Gardens. The selected artworks are quite varied yet all represent unique views of the gardens, many presenting a most unusual perspective and interpretation. The list of artists is extensive, so I will share a few I am familiar with:  Karen Hochman Brown, Kathy Cahill, Molly Enholm, Melissa Reischman, Lindsay Serata , Ann Storc, and many many more. Thru 6/09/19.
Armory Center for the Arts in Pasadena presents 2 noteworthy exhibitions: Sara Kathryn Arledge: Serene for the Moment and Sandra de la Loza: Mi Casa Es Su Casa.  Thru 5/12/19.
Craft Revolution continues at Orange County Center for Contemporary Art in Santa Ana. This  group exhibition featuring artists who work in a variety of media. "Craft Revolution  illuminates an important truth about contemporary art: we can no longer categorically separate craft, fine art, decorative art, and utilitarian, designer objects." Among the artists whose work is included are Lorraine Bubar, Bibi Davidson, Virginia Davis,  Sharon Hardy, Liz Koerner, Sheila Rodriguez, and Susan Zimmerman just to name a few. Thru 3/23/19.
IN THE MUSEUMS
Something Revealed; California Women Artists Emerge, 1860-1960 continues at The Pasadena Museum of History. Thru 3/31/19.
Craft Contemporary (Formerly Craft and Folk Art Museum) presents Beatriz Cortez: Trinidad /Joy Station. Cortez imagines a future communal life that combines the geodesic dome architecture of post-war utopian communities in the United States with the collective living practices of the ancient Maya in what is present-day El Salvador. Cortez's installation is dedicated to multicultural coexistence, the survival of indigenous peoples, and experiences of joy. Thru 5/12/19.
Two noteworthy surveys continue at the MOCA Geffen Contemporary  A mid-career survey of work by Laura Owens and a survey of the work of artist Zoe Leonard.  Thru 3/25/19.
The California Museum of African American Art (CAAM) current exhibition is Adia Millett: Breaking Patterns. "Oakland-based artist Adia Millett delves into issues of identity, personal memory, and collective history. She cycles her evocative imagery through a variety of media, including collage, assemblage, photography, textiles, and painting, creating multilayered representations of deconstructed structures and imaginary interiors that stand in for the human experience and provide a dwelling place for a black aesthetic. A central concern of Millett's is the history of African Americans, and the history of African American women in particular. Her quilts—made from discarded clothing, sheets, other quilts, and curtains—allude to domesticity and craftwork. Flying Coffee Table (2015), for example, is an elaborate, process-oriented quilt that reveals Millett's use of improvisation and intuition; the artist disassembled an existing quilt and rearranged it into an irregular, unexpected form." (Note: I have "borrowed"  this material from the museum website and do hope to see this exhibit soon).  Thru 8/25/19.