So sorry to have missed my blog last month as I was thoroughly engrossed in the organizing of the Women's Caucus for Art's exhibit, Art Speaks! Lend Your Voice at Arena 1 Gallery. A short video has been made of the exhibit so everyone can continue to enjoy the outstanding artworks: Art Speaks! Video 
IN THE GALLERIES: 
Louise Bourgeois (1991-2010), The Red Sky exhibition (image left) at Hauser and Wirth features works created between 2007 and 2009. They provide a glimpse into one part of her oeuvre and reinforce how essential writing, drawing and printmaking were in this amazing sculptor's artistic practice. Runs thru 5/20/18.
Also at Hauser and Wirth is Geta Brătescu: The Leaps of Aesop, the first Los Angeles solo presentation devoted to the 91-year-old forerunner of Romanian Conceptualism (image right). Her diverse oeuvre of drawing, collage, engraving, textiles and photography, also includes experimental film, video and performance that mine themes of identity, gender and dematerialization. She often draws from the stories of literary figures while addressing the symbiotic relationship between art making and working environments.
Runs thru 5/20/18.
Pastine employs three complementary color systems (image left) to create artworks that are at once minimal yet complex. These paintings are more than mere color studies, they are models of contradiction that highlight the dialogue between the finite versus infinite, materiality of surface and immateriality of space and light and the visceral versus the methodological. Runs thru 4/22/18.
Alison Saar: Topsy Turvy
 is the current exhibition at 
L.A. Louver Gallery
. This is an exhibition of new works that take inspiration from the character of Topsy in Harriet Beecher Stowe's classic Civil War-era novel 
Uncle Tom's Cabin. (image below right)
| | |
| --- | --- |
| | |
Saar re-contextualizes the sprightly uncouth slave girl as a symbol of defiance,through paintings on dyed vintage linens and sculptures carved from wood. I just saw this fantastic exhibition last Saturday, and cannot say enough wonderful things about it. The gallery is filled with many wood carved personnages of the young girl. Each is covered in vintage tin ceiling tiles that have been hammered on to the wooden vestiges. Their hair is made of wire culminating in cotton and many are weilding instruments from the cotton fields such as a sickles and shovels. For Saar, these works summon the collected rage and frustration for our current times, poignantly phrased in the writings of poet and activist Audre Lorde: "For the master's tools will never dismantle the master's house. They may allow us to temporarily beat him at his own game, but they will never enable us to bring about genuine change. Racism and homophobia are real conditions of all our lives in this place and time… I urge each one of us here to reach down into that deep place of knowledge inside herself and touch that terror and loathing of any di erence that lives here. [sic] See whose face it wears. en the personal as the political can begin to illuminate all our choices." [sic] Runs thru 5/12/18.
The CSUN Valley Performing Arts Center Soroya Art Gallery presents Wallowing, an exhibition of photographs by Lezley Krane. Krane's black and white photographs of interiors place an emphasis on psychological spaces more than physical dimensions. The large-scale images of walls, windows, and other domestic surfaces provide content by conveying a sense of familiar intimacy. (see image above)
Christiane Lyons (image right), who continues to investigate the use of appropriated material to re-contextualize images that provoke new meanings and visual interpretations. She often chooses compositions that follow traditional modes in the representation of women in the history of portrait paintings with figures standing, sitting or reclining. Runs thru 4/21/18.
Art + Practice
 presents 
Maren Hassinger: The Spirit of Things s
urveying the extensive career of this multi-talented artist (image left). The exhibition presents sculpture, performance documentation and videos that explore the emotional dynamics of relationships among different communities of people and the environments in which they live. Runs thru 5/26/18.
| | |
| --- | --- |
| | |
Regen Projects presents new paintings and collages by New York-based artist Sue Williams (image right). She is known for referencing the history of painting, particularly the fraught legacies of hyper masculine artists like Willem de Kooning and Jackson Pollock, her canvases combined figuration with feminist cultural critique. Towards the end of the 1990s her works employed a more abstract lyrical style, featuring colorful cartoonish allover compositions charged with political meaning. These recent works continue to be inherently political but utilize the language of painted abstraction paired with explicit titles to convey meaning. Also on view are a series of new collages that continue to depict the themes present in the adjoining paintings. Their humorous and ironic subject matter combines domestic symbolism with excerpts from figurative moments extracted from recent paintings, as well as boldly patterned strips of wallpaper samples. Runs 4/14/18 thru 5/12/18. Opening reception on Saturday, 4/14/18 from 6 to 8 pm.
Walter Maciel Gallery is known for their wonderful exhibits and the current one is no exception. Interiors of the Yelling Clinic features new work by Katherine Sherwood. Sherwood, who suffered a cerebral hemorrhage 20 years ago had to adjust her art making to that solely of her right hand. The paintings here are straight out of the art history playbook with classical Odalisques and still life compositions that she redefines with subtle references to her disability. Runs thru 4/28/18.
IN THE MUSEUMS: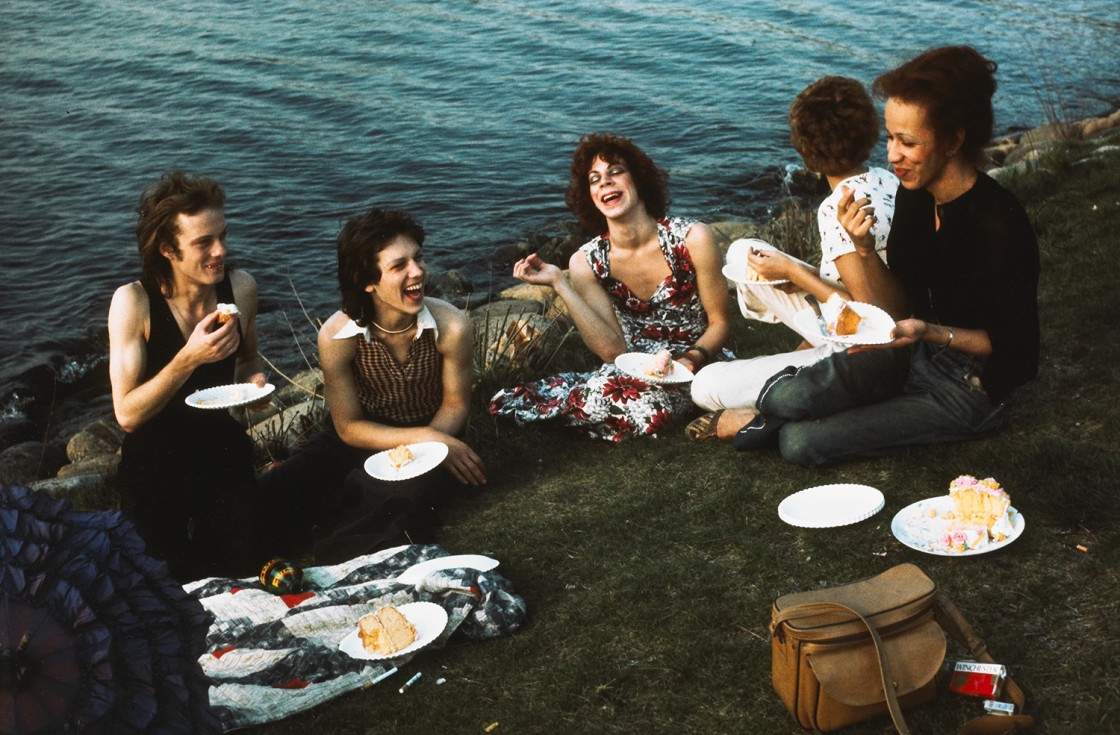 The current exhibitions at 
MOCA Grand Avenue
 are 
Real Worlds: Brassai, Arbus, Goldin
 (image right) and 
Lauren Halsey: we still here, there. 
This exhibition selection consists of works by three essential photographers of modern life along with Los Angeles-based artist Lauren Halsey's immersive site-specific installation. Runs thru 9/3/18.
Lan
caster MOAH
 presents three outstanding exhibitions opening this month. 
Memory and Identity: The Marvelous Art of Betye, Lezley and Alison Saar
 curated by 
Betty Ann Brown
 and 
It Takes a Village
, a group exhibition at MOAH Cedar titled 
Continuum
: 
Monica Wyatt
. Runs thru 4/22/18.
Pomona College Museum of Art
 presents 
Muse: Mickalene Thomas Photographs tête-a- tête.
 This exhibition and accompanying publication are the first to gather together her various approaches to photography, including C-prints, collages and Polaroids. The exhibition at Pomona College also includes an installation that represents the artist's studio, a tableau depicted in the photographs. Runs thru 5/13/18.
USC Fisher M
useum of Art
 presents 
Senga Nengudi: Improvisational Gestures.
 Nengudi is known for her amazing conceptual and performance work (image left). This extensive exhibition that represents decades of her interdisciplinary practice blends natural and synthetic materials, including pantyhose, rubber and sand. Her sculptures often await the activation of a human body, marking and mystifying the dynamic intimacy with the matter that we move through. Runs thru 4/14/18.
 Exhibition Walk-through of Dora De Larios: Other Worlds
Saturday, April 28
Dora De Larios: Other World
 is her inaugaural exhibition at 
The Main M
useum
 (image right). The exhibition highlights the late artist's ceramic works. In her six decade-long career, De Larios' work has long been undervalued. She operated outside of the gallery system by necessity, carving space for her and her work by starting Irving Place Studio, an independent studio practice, and through large-scale commissions in California, Hawaii, Tahiti and Japan. Her identity as a Mexican-American woman in a male-dominated art world is deeply reflected in her concentration and focus on the feminine form in her works.
Exhibition Walk-Through of Dora De Larios: Other Worlds, Sat. 4/28, 2-3:30 p.m.
Join Allison Agsten, Director of The Main, and Sabrina Judge, Dora De Larios' daughter and partner at Irving Place Studio, for a tour of the exhibition Dora De Larios: Other Worlds.
Exhibition runs thru 5/13/18.
The Feminine Sublime features paintings that provide a feminist perspective about the concept of the sublime. Exhibition artists and Los Angeles-based painters Merion Estes, Yvette Gellis, Virginia Katz, Constance Mallinson and Marie Thibeault (image left) counter traditional landscape painters and enlist challenging aesthetics, formal inventiveness and provocative imagery to re-imagine relationships with rapidly changing urban and natural environments in more relevant and meaningful ways. Runs thru 6/3/18.
Ana Serrano: Homegrown  is also at PCMA. Her immersive "garden" references a recognizable urban landscape and pays homage to the artist's family connection to the land in Mexico. This juxtaposition highlights the built environment of bright-colored walls with lively plants made of cardboard and paper. Runs thru 6/3/18.
Unspeakable: Atlas, Kruger, Walker at the UCLA Hammer Museum is a selection of video installations from the Hammer Contemporary Collection organized by chief curator Connie Butler, chief curator Annie Butler and director Ann Philbin. The exhibition features major works by American artists Charles Atlas, Barbara Kruger and Kara Walker (image left) created in the last decade.
 Among these is Kruger's The Globe Shrinks, a four-channel, 13-minute compilation of video and text that narrates in a series of scenes and skits the conflicting coexistence of kindness and brutality. I was transported in a five-channel installation by Walker that touches on the Civil War, the slave Sally Hemings, the artist's studio and the genocide in Darfur. In this signature work, Walker's silhouettes offer haunting emotional vignettes as flat hand puppets set against vivid backgrounds and accompanied by a soundtrack of country music. Runs thru 5/13/18.