WOMEN AROUND TOWN by Karen Schifman
IN THE GALLERIES:
As you may know, a special exhibition of the work of 
Cindy Sherman
 will be opening at the Broad Art Museum in June. Make sure you are on their 
mailing list
 to be notified when tickets will be available.
Micol Hebron'
s "(En)Gendered (In)Equity: The Gallery Tally Poster Project" continues at 
Los Ang
eles Contemporary Exhibitions
 (LACE). It is a retrospective of all Gallery Tally posters created to date and includes over 400 original, artist-designed posters that visualize gender ratios in the contemporary art world. Since 2013, Gallery Tally has collected and visualized data pertaining to the ongoing underrepresentation of women in all facets of the art world and beyond. Runs thru 4/17/16.
CB1 Galle
ry
 presents "Midnight Sun," an exhibition of work by 
Lily Simonson
(image left) This body of work comes from an expedition to Antarctica and includes paintings and accompanying video installation. Simonson creates hyper-saturated canvases that are magnifications of ice formations, vistas and various living creatures of the area. These encounters were experienced through daily scuba diving trips off the coast of Antarctica. Runs 4/16/16 thru 5/29/16. Opening reception on 4/16/16 from 3 to 6 pm.
"Revolution in the Making: Abstract Sculpture by Women, 1947-2016" is the opening exhibition at the new 
Hauser, Wirth & Schimmel Gallery
 in Downtown LA. The exhibition features about 100 works made by 34 artists over the past 70 years. Among the many women artists whose work is displayed are
Claire Falkenstein
, 
Magdalena Abakanowicz
,
 Ruth Asawa
,
 Louise Bourgeois 
(image right), 
Eva Hesse
 and
 Louise Nevelson
. Runs thru 9/14/16.
Lora Schlesinger Gallery
 presents "Bending Light" featuring new work by 
Carrie Seid 
(image below). Seid explores reflected light, color and structure. The sculptures are composed of silk, aluminum, mylar and acrylic. They are built using aluminum bases with geometric understructures. The forms within each base are constructed to allow light to bounce off the surfaces and the edges of the metal organically. While she begins each piece with a formal aesthetic in mind, she lets the metal find it's way according to its natural properties. The metal structures are then sheathed in silk to create enigmatic works that exist between painting and sculpture. The contrasting nature of the elements are harmoniously married, creating an intriguing atmosphere within each that changes with the time of day and the position of the viewer. Runs thru 4/23/16.   
Anat Ebgi gallery
 presents a solo exhibition of work by 
Samantha Thomas
 (image below) entitled "Complex Systems of Communication." Thomas explores common studio materials and abstraction in her works. She uses raw canvas, thread and acrylic paint to interrogate the surface. "Her approach on the canvas and sculptural aesthetic recall the works of many modernist female artists. From the tangled, slumped and webbed rope works of Eva Hesse to the uncanny assemblages of Louise Bourgeois, Thomas' work gestures toward an art historical moment in which female painters and sculptors were turning towards abstraction through the repetition, weaving and layering of materials. She extends this dialogue into her artistic creation, expressing a conception of the tactile interaction between the body and the canvas." Runs thru 4/23/16.
P0ST
 presents "
Kim Abeles:
 Portraits and Autobiographies" (image right). Although she is better known for her public art, this exhibition provides a more intimate view of her art production. Biographical sculptures of Gertrude Stein, Rosa Parks, Carmen Miranda, Eva Perón, Beryl Markham and St. Bernadette provide a space for staking claim to a spirited core while constructing a body to house it. Selections of Abeles' artist books and publications from exhibitions are included along with these works. Runs thru 5/21/15.
"Leap Before You Look: Black Mountain College 1933-1957" at the 
U
CLA Hammer Museum
 is the first comprehensive museum exhibition in the US about the experimental liberal arts college. Runs thru 5/15/16.
"Made in China" at 
The Craft and Folk Art Museum
 is a solo exhibition of recent work by Los Angeles-based artist 
Keiko Fukazawa 
(image above). These ceramics are not only exquisite, they also provide commentary on consumerism in China and beyond. Runs thru 5/8/16.
An important exhibition of the work of renowned California artist 
Helen Lundeberg
 (1908-1999) continues at 
The Laguna Art Museum
. This is a systematic survey of her paintings with over 50 examples including her Post-Surrealist paintings of the 1930s. Runs thru 5/30/16.
"Catherine Opie: Portraits" at the UCLA Hammer Museum features 12 portraits of visual artists, fashion designers and writers photographed by Opie. This body of work engages directly with old master portraiture. Runs thru 5/22/16.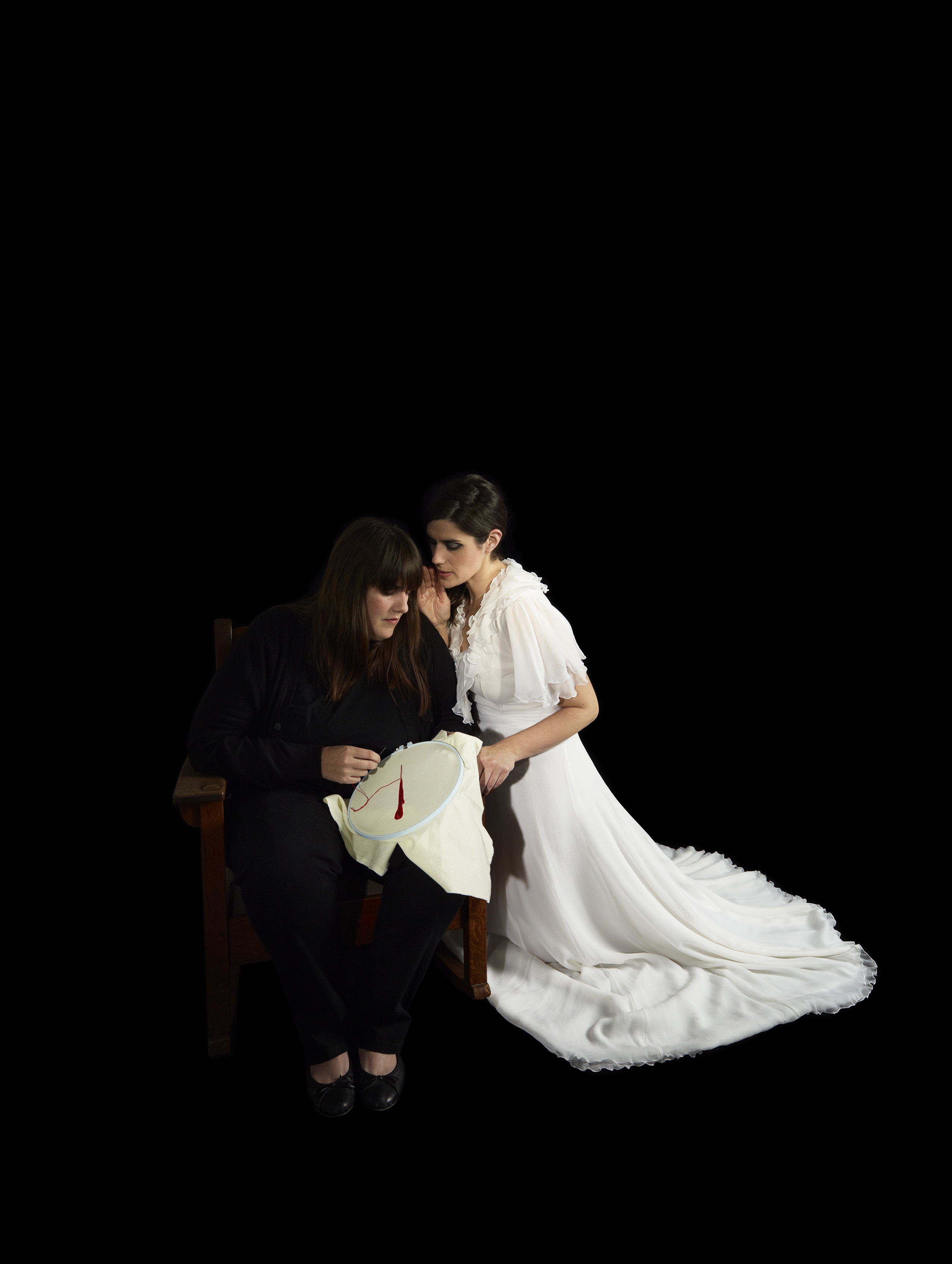 Catherine Opie's "O Portfolio" is on view at LACMA. This project was a response to Robert Mapplethorpe's X Portfolio. The photographs depict sadomasochistic scenarios derived from her participation in San Francisco's bondage community. Despite their sexually explicit sources, Opie declares their content as that of intimacy. Runs thru 9/5/16.
A retrospective of the work of 
Claire Falkenstein
is the current show at the 
Pasadena Museum of California A
rt
. "Claire Falkenstein: Beyond Sculpture" (image below) traces the development and details of her work from the early 1930s through the 1990s. 65 key works featuring her groundbreaking 3-dimensional sculptures as well as examples in other media comprise the exhibition. Falkenstein is well-known for her sculptures, but also created jewelry, glass, film, stage sets for dance, public murals, fountains and architectural works. The gates to the Guggenheim Collection in Venice, Italy and the window sculptures for St. Basil's church here in Los
Angeles are among her most notable architectural contributions.  Runs 4/17/16 thru 9/11/16. Exhibition Walkthrough: A Varied Oeuvre on Sunday, 4/17/16 at 3 pm, NO RSVP REQUIRED.
The first retrospective of 
Agnes Martin
's (1912-2004) work since 1994 will be on view at 
LACMA.
This extensive exhibition covers the full breadth of her practice, revealing her early and little-known experiments with different media and tracing her development from biomorphic abstraction to the mesmerizing grids and striped canvases that became her hallmark. Runs 4/24/16 thru 9/11/16.