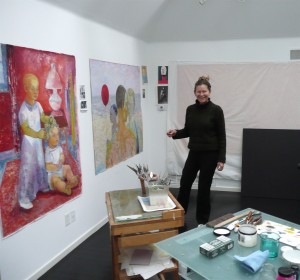 I was not surprised at all when I entered the nicely lit and tidy well-appointed space of Patricia Terrell-O'Neal's Santa Monica Studio. It seemed well-suited to the soft-spoken woman who inhabits it nearly every day. Terrell-O'Neal knew she was going to be an artist since she was a young girl growing up in Tennessee where her only source of reference was the local replica of the Parthenon. She set out for her destined career and has been able to nurture a creative life over the past 40 years enhanced with an arts education, a long-time marriage, and the roles of mother and grandmother along the way. Her career is rounded out by the good fortune to travel frequently and to have had studios in various locales including New York, Mexico, France and Santa Monica throughout the years. From the beginning the human figure has played a prominent role in her work and that is demonstrated in the careful rendering of anatomy in her drawings and paintings. Terrell-O'Neal paints with patience and is deeply concerned about the process.
Several completed portraits hang on the walls of her studio, including visages of her loved ones, acquaintances, and sometimes faces culled from mass-media sources. Her art is at times beguiling with its familiarity and emotionality. There are many books filled with her drawings on the shelves of her well-appointed library. The imagery is all rendered with the skillful hand of an experienced draughtswoman with paint applied equally adeptly. She explained to me how she begins a work with inspiration and completes it with interpretation. This is all done with great expertise and a bit of obsessiveness keeping a regular gallery schedule when she is not traveling. An easel sits askew with an incomplete work and she informs me that she actually paints with the canvas on the wall. This artist who was in the past content with her paint lying on the canvas is no longer. Now she wants her painted images to become one with the material. On a table lay six small pieces of linen saturated with hues of red water-based pigment. This is part of an experiment to develop a desired texture in her paintings. Another work in progress is a "Look & See" book which is actually a wonderfully bound reproduction of an old French volume filled with blank pages that she is covering with free-hand copies of images that interest her. The results will be a massive mixed media project that will include images from the annals of art history and mass media along with text from various sources.
Terrell-O'Neal's work has been shown in at least 14 solo exhibitions and numerous group shows over the years. Most notably and probably the most personal was "The Myth of Frankenstein" a solo exhibition at Frank Pictures in 2008 and other venues. This series of paintings derived from the Mary Shelley tale began with the artist's fascination with a story that resonated with her own. She too, like the author lost her mother at a young age and this has had a deep impact on her life. Motherless characters and the idea of creation without mothering intrigue her, such as that in the Frankenstein story. The series began with a plethora of drawings in notebooks and resulted in an amazing series of paintings, some quite eerie, filled with emotion and soul. Another trope explored in Terrell-O'Neal's oeuvre is that of the egg. The form also is very personal as it was the staple of her childhood diet when left motherless. Later when in Mexico eggs were everywhere and they became a subject and form that attracted her. Her images of eggs however have a tenderness to them, rendered skillfully and enhanced by this artist's biography.
Patricia Terrell-O'Neal is a gifted artist dedicated to a rather traditional art practice, with an understanding of human anatomy, art history, and global sensibilities, who tackles her subjects with great care, insight, and intellect.